Digital SLR Cameras: K10D
Innovative Shake Reduction system
to optimize image sensor performance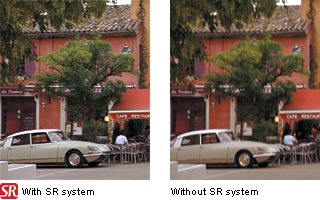 No matter how sophisticated a camera's image sensor is, camera shake can spoil its image-resolving power. That's why the PENTAX K10D incorporates the innovative Shake Reduction (SR) system. When switched on, this SR system effectively reduces camera shake for sharp, blur-free images — not only at slow shutter speeds, but also at high speeds. It compensates for even the slightest levels of camera shake — the kind that can only be noticed when an image is enlarged to a large-size print. This advanced SR system is PENTAX's solution for bringing out the full potential of the high-performance image sensor, and assuring blur-free, high-resolution images even under the most demanding conditions.
Four-shutter-step compensation
for greater freedom in shake-free handheld shooting

The K10D's SR system can effectively compensate camera shake for approximately 2.5 to four shutter steps.* This means you can hold the camera in your hand and still capture sharp, crisp images under difficult shooting conditions, such as when using a telephoto lens, shooting in the dark or at night without supplementary flash illumination, using extended exposures for sunset scenes, or taking extreme close-ups with a macro lens. This lets you take advantage of the incident light and prevailing atmosphere in a greater range of situations to preserve more natural, true-to-life images.
* The degree of shake reduction effect may vary, depending on the lens used and/or the photographic conditions.
Note: Users are advised to turn the SR system off when using the K10D on a tripod.
Upgraded SR mechanism
to assure delay-free response and utmost reliability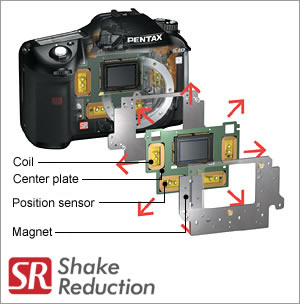 The K10D's SR system features the PENTAX-developed image sensor shift mechanism, which uses magnetic force to shift the image sensor at high speed along the center plate. For the K10D's new image sensor, PENTAX has redesigned the conventional SR mechanism and fine-tuned its control algorithms, while upgrading the magnets and coils to generate more driving force and assure more stable operation. As a result, the K10D's SR system provides a superior camera-shake compensation effect.
Versatile SR system assuring full compatibility
with all PENTAX lenses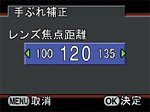 Since the SR mechanism is contained within the camera body, you can take advantage of this extremely useful function in combination with any PENTAX interchangeable lens, including manual-focus lenses. When such a lens is mounted on the K10D, the Shake Reduction setting menu is automatically displayed on the LCD monitor. All you have to do is select the focal length corresponding to your lens on the menu screen.** This means that you can still retain the descriptive power and visual characteristics of your favorite PENTAX lenses — no matter how old they are — while taking advantage of the K10D's sophisticated features.
** For more detailed information, refer to the operation manual.

A large-format CCD image sensor with 10.2 effective megapixels
is the key to producing high-resolution, fine-detailed images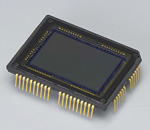 The number of effective pixels provided by an image sensor directly affects the camera's image-forming performance. That's why PENTAX has equipped the K10D with a large-format (23.5mm x 15.7mm) CCD image sensor with 10.2 effective megapixels and a sensitivity range of ISO 100 to 1600 to optimize the performance of smc PENTAX interchangeable lenses and deliver true-to-life images with outstanding out-of-focus description. It also offers an extra-wide dynamic range to reproduce rich gradations from highlights to shadows and minimize totally washed-out and blacked-out areas. PENTAX has also equipped the K10D with two-channel signal readout circuitry for high-speed, consecutive shooting of approximately three frames per second, while employing an RGB primary color filter for superior color reproduction quality.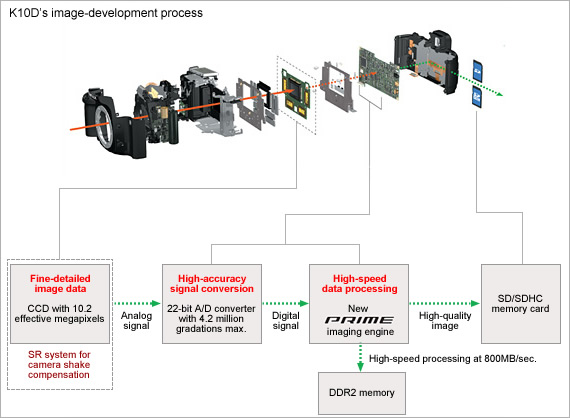 Low-pass and infrared-cut filters
for higher resolution and true-to-life color reproduction
The K10D's low-pass filter is optimized to minimize false colors and provide well-balanced resolution. An infrared-cut filter and an interference-type sharp-cut infrared-cut filter have also been incorporated to effectively reduce red-component noise for the faithful reproduction of solid blacks.
22-bit A/D converter
for reproduction of 4.2 million gradations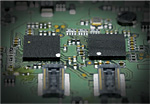 In all digital cameras, analog signals collected by the image sensor must be converted into digital signals by the A/D converter. For this crucial process, the K10D incorporates a 22-bit converter that can generate an astonishing 4.2 million gradations. Compared with conventional 12-bit converters (with 4,096 gradations), this high-performance converter can process 1,024 times more image data, assuring greater dynamic and graduation ranges. As a result, the K10D reproduces all elements of your images — from delicate skin tones to the subtle differences in material and texture — more faithfully and brilliantly than ever before. With the K10D, you can explore the fascinating world of digital SLR photography with greater freedom and energy than ever before.

New PRIME imaging engine
for high-speed, high-accuracy data processing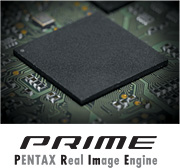 In order to generate images from the enormous amount of data delivered by the 10.2-megapixel CCD and 22-bit A/D converter, the K10D incorporates the new PRIME (PENTAX Real Image Engine) as its imaging engine. Thanks to its 90nm semiconductor, it assures both high-speed data processing and low power consumption. Its DDR2 memory chip also contributes to high-speed data transmission at a data rate of 800MB per second. As a result, PRIME boosts both the image processing speed and the data transfer accuracy to deliver top-quality images with fine resolution, rich graduation and true-to-life colors. In fact, PRIME is the key to the K10D's truthful, high-quality image reproduction.
---