Digital SLR Cameras: K-m
↓ Overview of the PENTAX K-m package and the special lens kits
PENTAX K-m package
Standard accessories: I-USB7 USB cable, O-ST84 strap, four AA-size lithium batteries, S-SW84 software package (CD-ROM), eyecup F

Q

, hotshoe cover F

K

, body mount cover
PENTAX K-m Lens Kit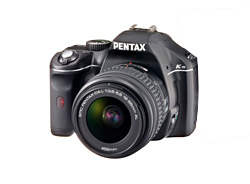 Kit contents:

PENTAX K-m camera body
smc PENTAX-DAL 18-55mm F3.5-5.6 AL zoom lens (Case: S80-120, Hood: PH-RBA52 optional)

Standard accessories: I-USB7 USB cable, O-ST84 strap, four AA-size lithium batteries, S-SW84 software package (CD-ROM), eyecup F

Q

, hotshoe cover F

K

, body mount cover
PENTAX K-m Double Zoom Kit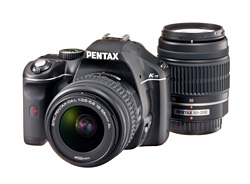 Kit contents:

PENTAX K-m camera body
smc PENTAX-DAL 18-55mm F3.5-5.6 AL (Case: S80-120, Hood: PH-RBA52 optional)
smc PENTAX-DAL 50-200mm F4-5.6 ED zoom lenses (Case: S80-120, Hood: PH-RBB52 optional)

Standard accessories: I-USB7 USB cable, O-ST84 strap, four AA-size lithium batteries, S-SW84 software package (CD-ROM), eyecup F

Q

, hotshoe cover F

K

, body mount cover
Main features of the smc PENTAX-DAL 18-55mm F3.5-5.6 AL lens
A compact, easy-to-use standard zoom lens with focal lengths from 27.5mm to 84mm (in the 35mm format) covering wide-angle to medium-telephoto ranges
Latest optical design featuring high-performance aspherical lens elements and super-low dispersion glass elements for effective compensation of various aberrations
Main features of the smc PENTAX-DAL 50-200mm F4-5.6 ED lens
A super-compact, ultra-lightweight telephoto zoom lens with focal lengths from 76.5mm to 300mm (in the 35mm format)
ED (Extra-low Dispersion) glass optical elements for effective compensation of chromatic aberrations over the entire zoom range and enhanced image-description performance
Note: The DAL-series lenses do not offer the Quick-Shift Focus System.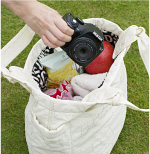 An extra-compact body to accompany you anywhere — even on a short stroll
The PENTAX K-m measures just 122.5 millimeters wide (excluding protrusions), so it comfortably fits in a handbag. You can take it anywhere, for all occasions.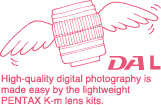 Lightweight lenses for easy carrying and outstanding maneuverability
PENTAX has developed a pair of compact, lightweight DAL-series zoom lenses* exclusively for the PENTAX K-m, without sacrificing the outstanding optical performance of PENTAX interchangeable lenses. Even with one of these lenses mounted, the PENTAX K-m is still one of the lightest digital SLR cameras in its class.
*

The new DAL-series lenses are available only as part of the PENTAX K-m Lens Kit and
the PENTAX K-m Double Zoom Kit.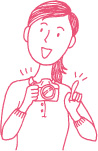 Just-fit camera grip, even in a small hand
To assure a firm, comfortable hold of the camera, PENTAX has redesigned the PENTAX K-m's grip to fit securely and comfortably even in smaller hands.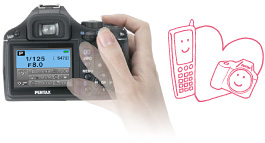 Simplified control system to assure effortless, one-hand operation
Thanks to a thorough review of the operation system, the PENTAX K-m features just a handful of buttons and dials — only those essential for high-quality digital SLR photography. These are laid out for easy access on the right side of the camera's back panel to assure quick, smooth one-hand operation, as if using a cell phone!
Simple, intuitive operations for instant shooting-mode setting
The PENTAX K-m features a unique "status screen," which allows you to check the camera settings at a glance on the LCD monitor. With a single push of the OK button, this status screen can be instantly switched to the control panel. Using the four-way controller, you can then select the desired setting and make adjustments speedily and effortlessly.