Impeccable protection against
water, shock, dust and freeze
News
2023.11.15

Announcing the PENTAX WG-90
Feature
The all-weather camera designed for adventures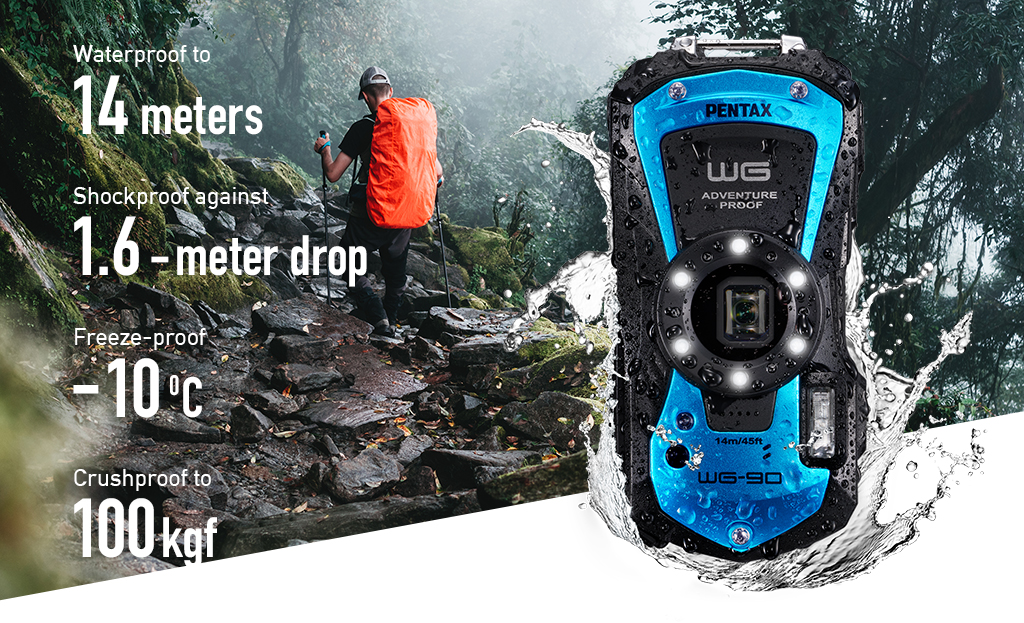 A heavy-duty body for solid protection against water, dust, shock and freeze
The PENTAX WG-90 is designed for serious outdoor photography, featuring dependable protective features: waterproof down to a depth of 14 meters, for up to two hours of continuous operation; dustproof against dirt and stains; shockproof against a fall from a height of 1.6 meters; crushproof against weights up to 100kgf (kilogram force), and freeze-proof against temperatures as low as -10°C.* Thanks to this heavy-duty construction, the WG-90 performs superbly and dependably even in harsh, demanding outdoor conditions.
* Battery capacity may decline as the ambient temperature drops, resulting in a reduced number of images that can be captured with a single recharge.
Five-times optical zoom lens to capture a wide range of
high-resolution images, from wide angle to telephoto
The WG-90 delivers sharp, clear, high-resolution images with a high dynamic range and low noise, thanks to the combination of a back-illuminated CMOS image sensor with approximately 16.0 effective megapixels and outstanding light reception efficiency, and a high-performance imaging engine.

Within its compact, lightweight body, the WG-90 features a five-times optical zoom lens with a focal-length coverage from 5mm to 25mm (equivalent to approx. 28mm to 140mm in the 35mm format) to accommodate a wide range of scenes and subjects, from sweeping landscapes to long-distance telephoto shooting. When coupled with its Digital Zoom function, you can extend the zoom range by approximately 36 times* (equivalent to 1008mm in the 35mm format).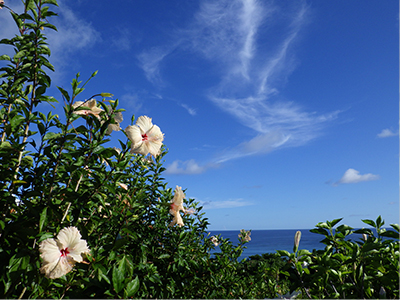 Outdoor-friendly LCD monitor
The WG-90's 2.7-inch LCD monitor, with 16:9 proportions and approximately 230,000 dots, is treated with the advanced AR (Anti-Reflection) coating to minimize annoying glare and reflections. Its Outdoor View Setting mode lets you optimize the monitor's brightness level for ambient lighting conditions — whether it's outdoor shooting under the harsh sunshine or nighttime photography — to improve the visibility of an on-screen image. The brightness level can be raised or lowered in two steps to each side.
Brightness comparison in sunny conditions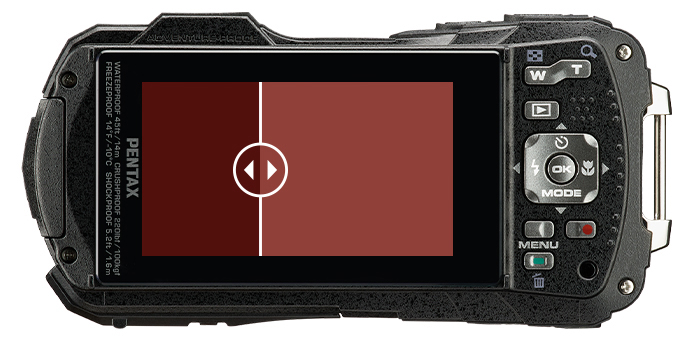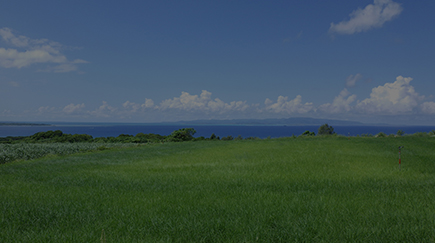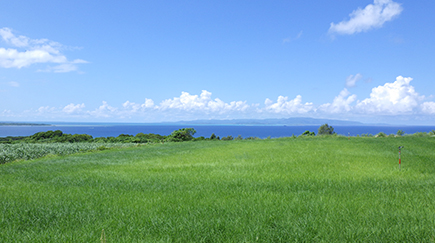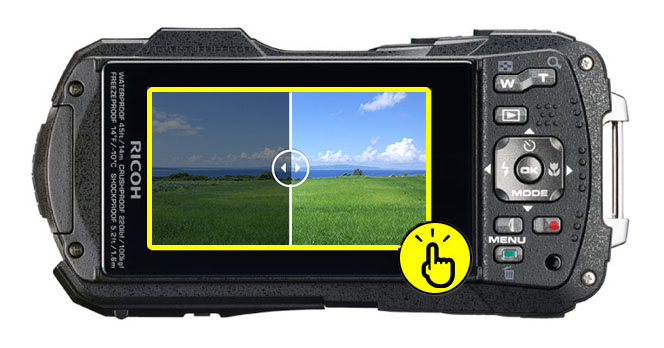 Note: The monitor image is simulated.
Slide the bar to compare brightness levels.
Left: normal brightness; Right: Outdoor View Setting at +2
A variety of shooting modes to accommodate all types of scenes and subjects
A choice of 25 scene modes
The WG-90 allows you to choose the desired scene mode from 25 options, including: Auto Picture, which automatically selects the most appropriate shooting mode for a given scene or subject to preserve it in a beautiful image; Landscape, which vividly expresses green shades of trees and blue shades of the sky; and Underwater and Underwater Movie, which reproduce natural colors of the underwater world by optimizing white balance to reduce the bluish color cast.
An image captured in Underwater mode
List of scene modes
Auto Picture / Program / HDR / Handheld Night Snap / Movie / High Speed Movie / Digital Microscope / Landscape / Flower / Portrait / Underwater/ Underwater Movie / Interval Shot / Interval Movie / Surf & Snow / Kids / Pet / Sport / Night Scene / Night Scene Portrait / Fireworks / Food / Digital SR / Report
Note: In addition to the scene modes above, the Green mode is also provided for an instant recall of default settings, with a push of the Green button.
Flash Off + Flash On option for two-image consecutive shooting
In the Underwater mode, this creative option comes in handy when shooting underwater creatures. With a single shutter release, the WG-90 automatically captures two images — one without flash and another with flash — to minimize the time and trouble for camera control and let you concentrate on the image composition.

A selection of Image Tone modes, identical with those featured in PENTAX Digital SLR models
The WG-90 provides six distinctive Image Tone modes to add the desired finishing touch to captured images, depending on the subject or your creative intensions. They include: Cross Process, which emulates a unique color scheme associated with a cross-processing film development technique;* Vibrant, which applies bright, rich, vivid colors; and Slide Film, which creates dynamic, high-contrast images resembling those produced by reversal film.
* Cross processing: a film development technique in which the film is treated with an unconventional developer to add distinctive colors to the image.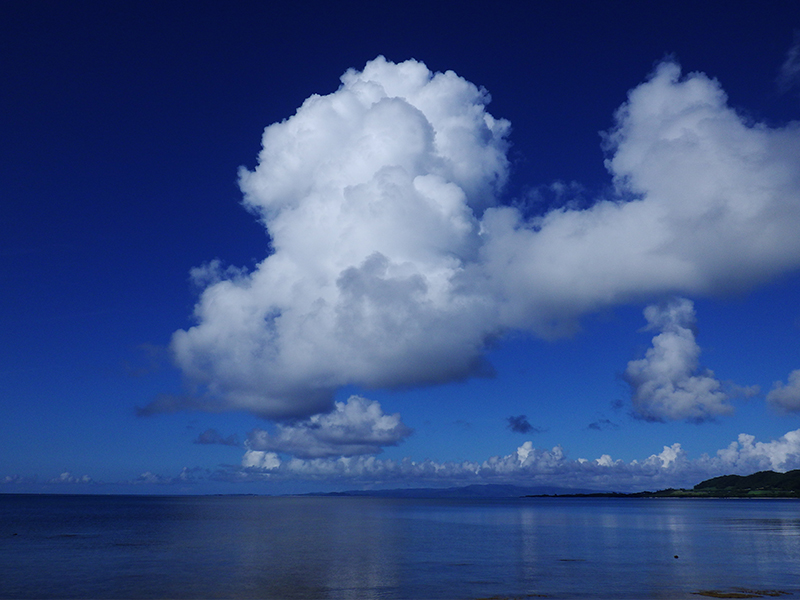 Image captured in Slide Film modes
List of Image Tone modes
Bright / Natural / Vibrant / Slide Film / Monochrome / Cross Processing
An array of creative functions to optimize the fun of picture-taking
User-friendly tools for macro photography
Macro photography lets you capture close-up images of small subjects, such as tiny petals and insects, in great detail. The WG-90's 1cm Macro mode lets you capture the subject from as close as one centimeter away. It features six LED Macro Lights, which are ideally positioned around the circumference of the lens barrel. In the Macro Lighting mode,* these lights allow you to adjust the illumination intensity to five different levels to assure the ideal lighting condition, while also preventing unwanted shade areas.
The Digital Microscope mode** comes in handy when you want to swiftly switch from normal shooting to macro photography using six LED Macro Lights. The WG-90 allows you to creatively and effortlessly capture the amazing microscopic world, which is normally undetectable with the naked eye. A macro stand is included as a standard accessory to stabilize the WG-90 at the minimum focusing distance of one centimeter during extended observation and shooting.
* The Macro Lights can be used in Program, Movie and Report modes.
** A maximum zoom range is 6.6 times (optical and digital zoom combined) at the default image size of 2M, or 1.8 times (optical zoom only) at the image size of 4M, 5M and 12M.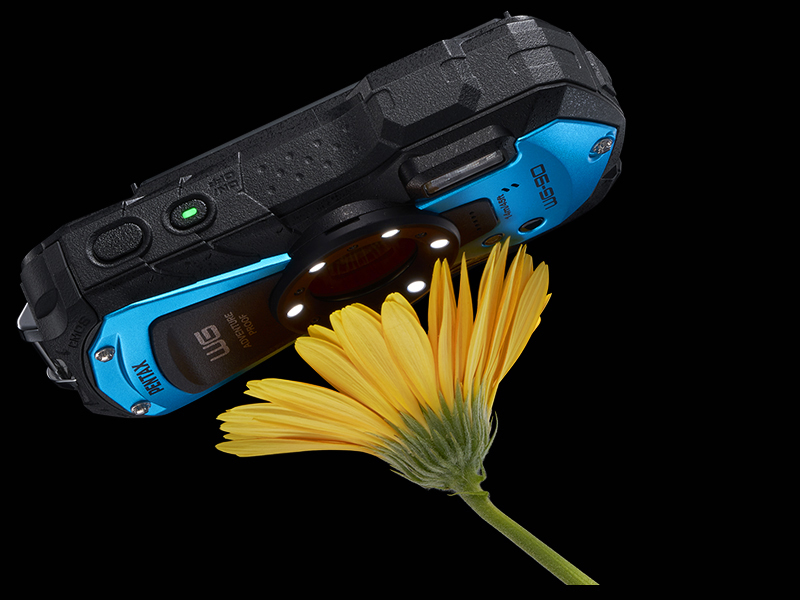 Capture an image from as close as
one centimeter away.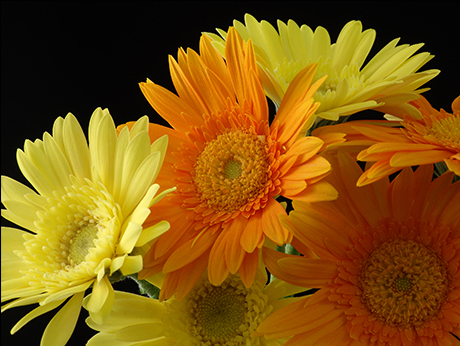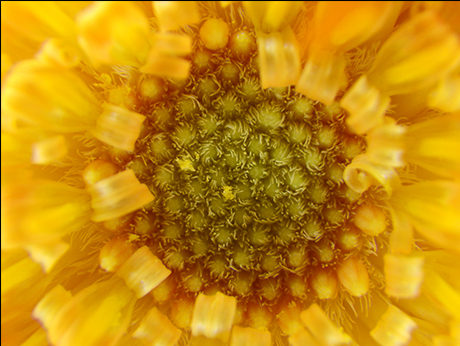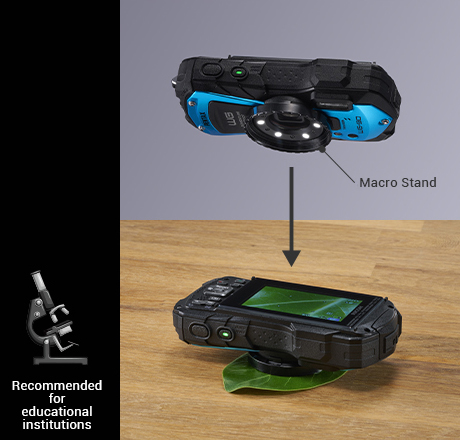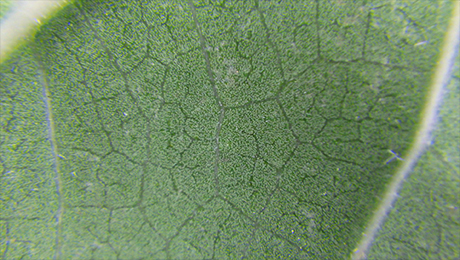 When the macro stand is mounted on the camera and placed on a flat surface, it prevents camera shake and stabilizes the camera at the minimum focusing distance.
Interval Movie for time-compressed movie clips
The Interval Movie mode automatically captures a series of images at a fixed interval, then links them together to create a single interval (time lapse) movie clip. You can choose the desired interval setting from one, five, 10, 30 or 60 minutes.*

The WG-90 also features an Interval Shot mode to automatically record a series of still images at a desired interval, without linking them into a movie clip.
* Individual images captured in the Interval Movie mode are not saved in the camera body.
Creative, flexible processing of captured images
The WG-90's Ink Rubbing filter allows you to casually save your catches as creative digital images. By applying this filter to a captured image, you can effortlessly create a unique image resembling an ink stamp. Since the filtering effect can be adjusted at five levels, you can even create a high-contrast, monochromatic image of your catch.

The WG-90 also provides other creative functions to process captured images in a unique, creative way. They include a selection of digital filters and original picture frames, which are designed to shift tones, add special visual effects, dramatize images, or create various types of ambience.
An original image before processing
An image processed with the Ink Rubbing filter
List of filters
Small Face / Ink Rubbing / Digital (B&W, Sepia, Toy Camera, Retro, Color, Extract Color, Color Emphasis, High Contrast, Starburst, Soft, Fish-eye, Brightness, Miniature) / HDR
Full HD Movie recording
The WG-90 provides a choice of three movie recording modes: Full HD Movie (at 16:9 proportions, at a frame rate of 30 frames per second); High Speed Movie for recording slow-motion movies; and Underwater Movie designed exclusively for underwater recording. In the Movie and Underwater Movie modes, you can take advantage of the Movie SR (Shake Reduction) mode to minimize camera shake and subject shake. You can even pick out a single frame from a captured movie clip and save it as a still image, or divide a movie clip into segments. The camera also provides an HDMI terminal (type D) for easy connection to and playback on a TV monitor or other audio-visual devices.
Other creative tools
The WG-90 features other user-friendly, creative tools designed to facilitate camera operation or provide creative functions, including: Smile Capture, which automatically releases the shutter when the camera detects a smiling face; Self-Portrait Assist, which blinks an LED lamp when the camera detects the face of a portrait subject; self-timer; and compatibility with an optional remote controller.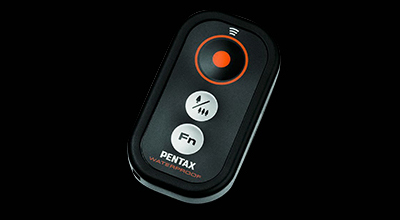 O-RC1 Waterproof Remote Control (optional)
Worksite applications
Worksite-friendly, heavy-duty
design
Equipped with a rugged body assuring impeccable protection against water, dust, freeze and shock, the WG-90 is designed to perform dependably and superbly at construction worksites.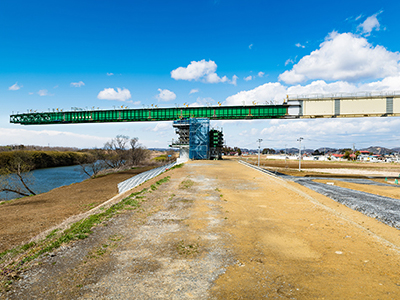 Brightness-adjustable Macro Light mode
The WG-90's Macro Light mode* lets you turn on six LED Macro Lights positioned around the circumference of the lens barrel, and use them as a lighting device in the dark, at five brightness levels. Since this mode can be used during macro photography, it comes in handy when you want to illuminate a small space while minutely adjusting the brightness level.
* The Macro Lights can be used in Program, Movie and Report modes.
For more information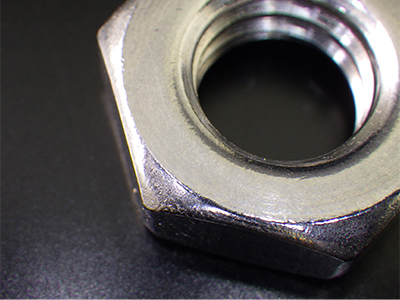 Other features:
• Face Detection AF & AE to capture as many as 32 faces in focus • Auto Tracking AF; AF assist lamp • Pixel Track SR • High Sensitivity mode • Movie SR • Continuous shooting • Burst shooting • Auto bracketing • Dynamic Range options • Blink detection • Pet detection • HDR mode • Simplified movie editing
Main Specifications
Read more
| | |
| --- | --- |
| Effective pixels | Approx. 1.6 million (16 megapixels) |
| Image sensor | 1/2.3″ CMOS |
| Dimensions | Approx. 122.5 (W) x 61.5 (H) x 29.5 (D)mm /4.8 (W) x 2.4 (H) x 1.2 (D) inches Excluding operating and protruding parts |
| Weight | Approx. 194g / 6.8 oz. (with battery and SD memory card) |
Lineup