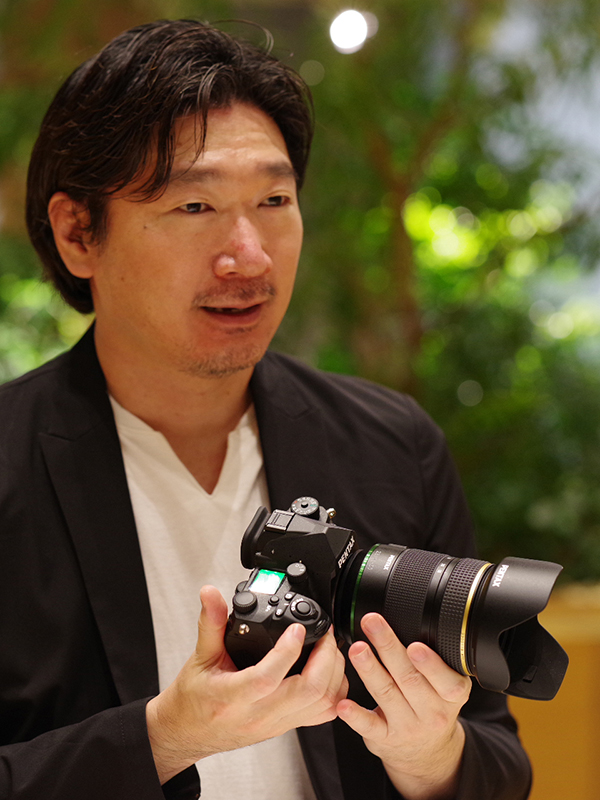 (Iwasaki: Product Planning)

At the initial product planning stage of the HD PENTAX-DA★16-50mmF2.8ED PLM AW, we set three goals that we intended to achieve:





We set these goals because we wanted to design a super-high-performance Star-series lens that not only optimizes the imaging performance of our latest PENTAX K-3 Mark III digital SLR camera, but also will be able to accommodate the more advanced APS-C-format digital SLR cameras of the future. We also wanted this new lens to be something to be cherished by users for many years to come.

Since it's a large-aperture standard zoom lens — one of the lenses most frequently used by camera users — we had to pay meticulous attention to every detail. This meant that we had to anticipated all possibilities: the subjects and scenes to be captured; the way the user will handle and operate it; and the imaging performance at every focal length from close-up to infinity.

In the planning stage of this lens, we conducted research on how users felt about the smc PENTAX-DA★16-50mmF2.8ED AL[IF] SDM and what improvement they expect of a newer lens. We found the following negative results:

・Low contrast and unstable resolving power at open aperture
・Generation of a purple fringe under certain conditions
・Slow, inaccurate autofocus operation



Our users pointed out a number of issues, including these. We felt a sense of crisis because this Star-series lens, which we expected to be the best of all interchangeable lenses, was starting to lose the confidence of its users. To regain their confidence in the Star series, we concluded that we had to completely redesign the optics and launch the next generation of Star-series lenses. We believed that it was possible to develop top-grade interchangeable lenses, which will please all users, by bringing together all the technologies PENTAX has accumulated and developed: optical design, design simulation, alignment, high-precision parts processing, actuator design, and mechatronics. For instance, we boosted our optical design, alignment and high-precision parts processing technologies using a high-precision simulation process for the development of four new-generation Star-series lenses (HD PENTAX-D FA★70-200mmF2.8ED DC AW, HD PENTAX-D FA★50mmF1.4 SDM AW, HD PENTAX-D FA★85mmF1.4ED SDM AW, and HD PENTAX-DA★11-18mmF2.8ED DC AW). We also designed a high-speed autofocus system and a high-precision focus control mechanism, using the latest mechatronics technology, for the development of the HD PENTAX-DA 55-300mmF4.5-6.3ED PLM WR RE. We focused on designing the best interchangeable lens — one that could optimize the imaging performance of the PENTAX K-3 Mark III — by making full use of PENTAX's advanced lens production technologies. We intended to eventually create the finest APS-C-format digital SLR imaging system in PENTAX history.