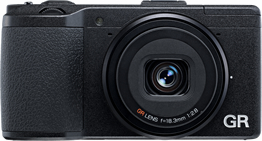 Included items
- Rechargeable battery - USB power adapter
- USB cable - Hand strap - Software (CD-ROM)
Specifications
Lens
7 elements in 5 groups (2 aspherical lens elements)
Focal Length
18.3mm
35mm equivalent focal length
approx.28mm
Aperture
F2.8-F16
Focus
Modes
Multi AF (Contrast AF method), Spot AF (Contrast AF method), Pinpoint AF,Subject tracking AF, MF,Snap, infinity, Face recognition priority (only in Auto mode), Continuous
Focus Range
(From lens face)
Approx. 0.3m to infinity (from the front edge of the lens)
Approx. 0.1m to infinity (Macro shooting, from the front edge of the lens)
Approx. 0.98ft to infinity (from the front edge of the lens)
Approx. 0.33ft to infinity (Macro shooting, from the front edge of the lens)
Face detection
Face Detection AF&AE is available for Auto modes up to 10 faces.
Number of Effective pixels
approx. 16.2 megapixels
Image Sensor
APS-C CMOS
Number of Recorded pixels
Still
[3:2] 4928×3264(L),3936×2608(M),2912×1936(S),1280×864(XS)
[4:3] 4352×3264(L),3488×2608(M),2592×1936(S),1152×864(XS)
[1:1] 3264×3264(L),2608×2608(M),1936×1936(S),864×864(XS)
Movie
1920×1080, 1280×720, 640×480
Sensitivity (Standard Output Sensitivity)
Auto, AUTO-HI, Manual ISO 100 - 25600
White Balance
Auto, Multi-P AUTO, Outdoors, Shade, Cloudy, Incandescent 1, Incandescent 2, Daylight, Neutral White, Cool White, Warm White, Manual, Details, White Balance Bracket Function
Display
3.0" transparent LCD, approx. 1,230K dots, with protective cover
Exposure Control
Metering
TTL metering in multi, center-weighted, and spot modes with autoexposure lock
Mode
Program AE, Aperture priority AE, Shutter priority AE, Shutter/Aperture priority AE, Manual exposure
Exposure compensation
Manual (+4.0 to -4.0EV in increments of 1/3EV); auto bracketing (-2.0EV to +2.0EV, 1/3EV or 1/2EV step)
Shooting mode
Auto shooting mode, Program shift mode, Aperture priority mode, Shutter priority mode, Shutter/Aperture priority mode, Manual exposure mode, Movie, My Settings Mode
Effect
Black&White,B&W(TE),High Contrast B&W,Cross Process,Positive Film, Bleach Bypass,Retro,Miniaturize,High Key
Other Major Shooting Functions
Continuous shooting, Self-timer,Interval shooting , Effect bracket, Dynamic range bracket, Contrast bracket, Color space setting, FA/Move Target, Dynamic range compensation, Multiple exposure shooting, Interval composite, Noise reduction, Histogram, Grid Guide, Depth-of-field indicator, Electronic level indicator
Other Major Playback Functions
Auto Rotate, Grid View, Enlarged Display (up to 16×), Slideshow, Resize, Skew Correct Mode, Level Compensation, White Balance Compensation, Trim, DPOF Setting, Color Moire Correction, Convert RAW, Clip Movie File, Save still image from movie,Eye-Fi Transfer
Shutter Speed
1/4000-300sec,Bulb,Time
flash
Modes
Auto,Flash On,Slow Synchro,Manual Flash, AUTO Red-Eye Flash,
Flash On Red-Eye,Slow Synchro Red-Eye
Range
(built-in flash)
0.2m-3.0m(ISO AUTO)
0.66ft-9.8ft(ISO AUTO)
Guide number
5.4 (ISO 100 equivalent)
Storage Media
internalmemory (approx. 54 MB), SD/SDHC and SDXC memory card (Conforms to UHS-1 standards), Eye-Fi card (X2 series)
Power Source
Rechargeable DB-65 lithium-ion battery, Optional AC adapter kit is also available
Battery life
Still*: Approx. 290 shots (Rechargeable Lithium-ion battery)
Playback**: Approx. 190 min. (Rechargeable Lithium-ion battery)
Interfaces
AV/USB output terminal (High-Speed USB, video output, audio output (monaural)),HDMI output terminal
Video Output
NTSC/PAL
Dimensions
approx. 117 mm (W) × 61 mm (H) × 34.7 mm (D) (excluding projecting parts)
approx. 4.6(W) ×2.4(H) ×1.4 (D) inches(excluding projecting parts)
Weight
With battery & SD card
approx. 245g (loaded and ready)
approx. 8.6oz.
Body
approx. 215g (without battery and SD memory card)
approx. 7.6oz.
* Recording capacity shows approximate number of shots recorded during CIPA-compliant testing. conditions. Actual performance may vary depending on operating.
** According to the result of PENTAX in-house testing.
Included software for processing and adjusting RAW files
SILKYPIX Developer Studio 3.0 LE for RICOH IMAGING
With this software, various adjustments can be carried out on RAW images, such as exposure and white balance adjustment, high-grade color swapping, and compensation of lens aberrations, all using a computer. This software makes it easy to enjoy utilizing RAW information to process high-quality images with intuitive controls.

Operating environment for software bundled with the GR
To connect the camera to a computer, and use the included software SILKYPIX Developer Studio 3.0 LE for RICOH IMAGING, the following computer requirements must be met.
Supported OS
Windows
Windows®8 (32 bit/64 bit)/Windows®7 (32 bit/64 bit)/ Windows Vista® (32 bit/64 bit)/Windows® XP (32 bit/64 bit)/ (SP3 or later, Home/Pro 32 bit) Administrator privileges are required for installation In 64 bit or higher operating systems, this can be run as a 32 bit application
Macintosh
Mac OS X 10.8/10.7/10.6/10.5
CPU
Windows
Intel® Pentium® compatible processor (Pentium® 4/ADM Athlon™ XP or more) Multi core (IntelPentium® Core™ i7, IntelPentium® Core™ i5, IntelPentium® Core™ 2 Quad, IntelPentium® Core™ 2 Duo/AMD Phenom™ II X6, X4/AMD Athlon™ II X4, X2, etc )
Macintosh
Intel® compatible processor/Power PC®
Memory
1 GB or more (2 GB or more recommended)
Hard drive space
Program installation and start-up: 100 MB or more of available space
Image file saving: Approximately 10 MB per file
Monitor
1024 x 768 dots, 24 bit full-color or more
Others
Input devices such as a keyboard, mouse, etc.
- A computer with a supported OS preinstalled, updated to the latest version, and equipped with USB ports as standard equipment is required.
Operation is not guaranteed on all computers with the recommended operating environment.
Estimated number of recordable shots/recording time
Recording size (pixels)
Quality
Built-in memory
4 GB
Still images
4928×3264
RAW
2 (shots)
155 (shots)
RAW+JPEG
1
117
4928×3264[L]
JPEG
6
481
3936×2608[M]
JPEG
10
746
2912×1936[S]
JPEG
18
1329
1280×864[XS]
JPEG
78
5498
Movie
1920×1080
30fps
36 (seconds)
1277 (seconds)
1280×720
60fps
40
1331
640×480
30fps
78
3207
- The number of recordable shots/time are estimates. The maximum recordable movie clip that can be recorded is 25 minutes, or 4 GB.