Infrared photography possible
Ordinary digital cameras are designed with an infrared absorbing filter in front of the image sensor so they are only sensitive to the visible light spectrum. However, by replacing the infrared absorbing filter with clear glass that passes infrared light, we have given the PENTAX 645Z IR special specifications that widen its sensitivity to include infrared light. In addition, placing a IR filter in front of the lens has made it possible to do special effects photography using only infrared light. Infrared light passes through, for example, the paint of a painting on canvas, the pigments of a wall painting, and the surface stains of documents so you can discover sketches and other marks which may be underneath. It can be effectively used in the analysis of a wide range of materials. Particularly suited to the viewing of sumie ink and other carbon components, it will clearly bring out characters that are difficult to discern on wood-strip where surface deterioration has occurred. The PENTAX 645Z IR features a wide range of infrared sensitivity, covering from the visible light spectrum up to about 1,100 nm.
Perform infrared light focusing with Live View photography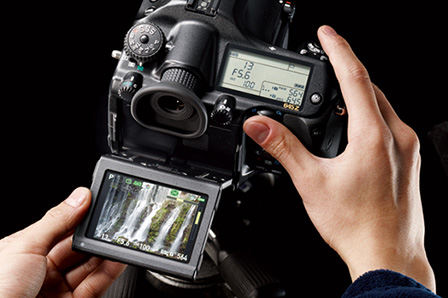 The focal point of infrared light differs from that of visible light so great skill is required to do infrared light photography using a optical viewfinder in which only visible light can be checked. Installing Live View function has made it possible for the PENTAX 645Z IR to take photographs while checking the infrared light focus. The magnified display (max. 16x) enables extremely accurate focusing. In addition, with approx. 1,037,000 dots, the large, high-definition 3.2 inch monitor (aspect ratio 3:2) makes it easy to shoot at both low and high angles. The front panel uses highly durable reinforced glass, the air-gapless construction effectively suppresses reflections by eliminating air layers between LCD surfaces, and there is an AR (Anti-Reflection) coating to reduce reflection. With the resulting substantial increase in visibility, the PENTAX 645Z IR is also an excellent choice for research photography.