GR DIGITAL IV : What are SCENE modes?
Scene mode allows you to select from 4 type of modes, and shoot with settings automatically optimized for the shooting condtions.
Scene modes
Symbol

Mode

Description

Dynamic Range
Choose for natural contrast when photographing subjects that are partly in the shade on a sunny day and other high-contrast scenes.

Interval Composite
Synthesizes the bright parts of images which are taken in the interval shooting. This mode is useful for capturing the trail of stars and the moon etc.
Skew Correct Mode
Use to straighten a rectangular object, such as a message board or business card, that has been shot at an angle. This mode makes it look as if the picture has been shot squarely.

In Skew correction mode, choose from [ 4:3F] or [ 4:3F] for [Picture Quality/Size].
Movie
Shoot movies with sound. The movie are recorded as the AVI file.
Scene mode selection
Press the MENU/OK button to show the scene mode selection screen below. Use

or

to select the desired scene mode, and press the [MENU/OK] button.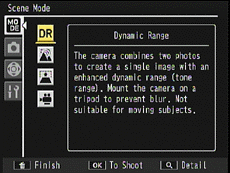 Answer ID: gr04416
Date created: November 14, 2011
Date modified: --
Product: GR DIGITAL IV
Operating system: --
Category: Hardware Operations
Useful LINKs:
Do you need other helps? Please click any link you want from the following.