GR DIGITAL IV : Is there a HDMI output terminal available ?
Yes, the camera has the HDMI micro output terminal (type D).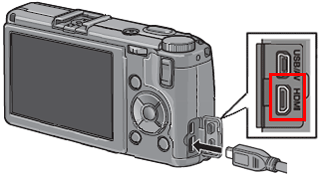 The HDMI cable (HC-1) is optional.
[GR DIGITAL IV optional accessories]
HDMI output setting
There are some options for video output resolution. Available options are [AUTO], [1080i], [720p], and [480p]. Choose the [AUTO] option for normal use. If the video resolution actually shown on the TV is low with the [AUTO] option, changing other options may make a better quality.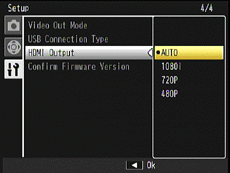 •

If connecting or disconnecting the HDMI cable in the thumbnail view of the playback mode, the display switches to the single frame view. In the situation, turning the zoom lever makes the display to the thumbnail view. When the menu is displayed, it will not switch to single frame view even if connecting or disconnecting the HDMI cable.

•

When connecting the camera to a television using a HDMI cable, movie sounds output from a television, but operational sounds output from the camera.
Answer ID: gr04403
Date created: November 14, 2011
Date modified: --
Product: GR DIGITAL IV
Operating system: --
Category: Hardware Specifications
Useful LINKs:
Do you need other helps? Please click any link you want from the following.