GR DIGITAL IV : Details on Color Space Setting.
Two types of color space options are available. [sRGB] is generally used to reproduce digital images, but [AdobeRGB] offers wider color space.
The Color Space Setting is located in the Setup menu.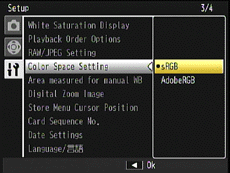 See below for Setup menu operations.
Details on the Setup menu operations.
[Caution]
•

The AdobeRGB color space was developed by Adobe Systems, Inc., and which is compatible with the default color space used in Adobe Photoshop and other image editing software.

•

AdobeRGB is intended to be used in commercial printing, so is not suitable for general print services or home printing. It covers a wider range of color space than sRGB, but colors may appear faded when displayed on or printed with the environment that does not support AdobeRGB.

•

If images shot with AdobeRGB as the color space are viewed on a computer, the colors will not be reproduced correctly unless software that supports AdobeRGB is used.
Answer ID: gr04023
Date created: November 14, 2011
Date modified: --
Product: GR DIGITAL IV
Operating system: --
Category: Hardware Operations
Useful LINKs:
Do you need other information? Please click any link you want from the following.