GXR FAQs - By Product
[Question] What is the [Multi-P AUTO] (multi-pattern auto white balance)?
For scenes with both sunlight and shadow, the camera automatically selects the optimal white balance to fit the light source of each segregated area of image.
Or for scenes mixing flash and natural light (or fluorescent light, etc.) during flash photography, this function can set the white balance to avoid a bluish tint due to the flash light.
The below are simulated images captured with [Auto], or with [Multi-pattern Auto] in white balance.
*

The image below is simulated, and it differs from an actual image.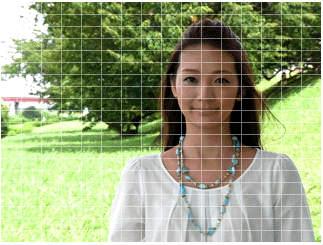 With finely segmented areas of the image, it calculates optimal white balance.
*

The images below are simulated for comparison between [Auto] and [Multi-pattern Auto] in white balance.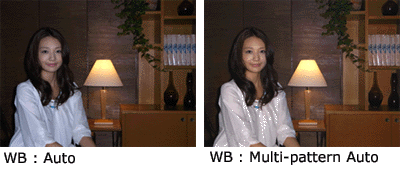 See the FAQ below about adjusting white balance.
Details on the White balance modes.
| | |
| --- | --- |
| Answer ID: | EDXR01040 |
| Date created: | July 2, 2010 |
| Date modified: | July 6, 2010 |
| Product: | GXR (GR LENS A12 50mm F2.5 MACRO), GXR (RICOH LENS S10 24-72mm F2.5-4.4 VC), GXR (RICOH LENS P10 28-300mm F3.5-5.6 VC) |
| Operating system: | -- |
| Category: | Hardware specifications |
Useful LINKs:
Do you need other information? Please click any link you want from the following.