GXR FAQs - By Product
[Question] "!Update firmware ?" message appears when the GXR camera starts up.
The following message may appear when starting up the GXR camera when a new camera unit is attached.
Please select [YES] to update the firmware of the GXR body.
Updating procedure
When a new unit is attached to the GXR body, it will automatically run the firmware update at start up. This message is to confirm if the update should continue. Press the [Fn2] button to choose [Yes], and press the [MENU/OK] button.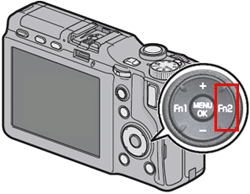 The update will proceed as follows.

Once the update is completed the camera will power off and start up again automatically, and the updated firmware version number will be displayed like below.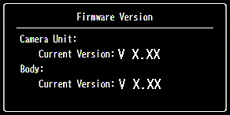 The GXR camera is now ready for use.
If you have other camera unit(s);
•

In order to take full advantage of new features we recommend that you update other camera units with the new firmware. Please confirm the firmware version of the camera units. Download the firmware update files and follow the instructions on the link below.
Answer ID: EDXR00081
Date created: July 2, 2010
Date modified: February 3, 2012
Product: GXR
Operating system: --
Category: Hardware operations, Other
Useful LINKs:
Do you need other information? Please click any link you want from the following.