RDC-i700
Data Management
Simplify complex tasks with the RDC-i700 by harnessing the Image Capture Guide List, autogenerating HTML files, and creating and playing back powerful multimedia presentations.
User-friendly 3.5-inch touch-screen LCD
The 3.5-inch, touch-screen LCD makes it easy to view and change data and check high-resolution images.
Stylus pen inputting
The stylus pen gives you touch-screen ease. You can annotate handwriting with the tool palette or add memos and other information by pressing the On-screen Keypad.
Your virtual assistant
JOB Navi. lets you quickly and easily manage large images and create databases.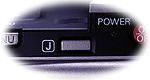 ·Image Capture Guide List
You can build an Image Capture Guide List on your PC before taking shots. Then, simply transfer images to your PC, where they link automatically with the source file.
Practical use
Sample

·Fast HTML file creation
You can autogenerate HTML files by selecting images and slotting them into an HTML template.

·Make image-based presentations fast
Easily edit and annotate images, specify the order and playback time - all on your RDC-i700. View presentations on the 3.5-inch LCD screen or through a TV monitor.

What you can do using a PC
Manage folders
To more efficiently manage images by subject, purpose, or photographer, you can create and name (must be DCF-compatible) new folders within the RDC-i700.