RDC-i700
Internet Communication
We help you streamline your communications by emailing images, sending directly to a remote PC, or uploading to your website. You can even surf the web with the RDC-i700's browser or transmit text images directly to the faxes of people without Internet access.
E-mail your images
You can e-mail stills, movies, text, and voice memos. You can also preregister an address in Quick Send mode to send a still at the touch of a few buttons.
Practical use
Click here for details

FTP directly to the Web in HTML
Templates let you convert images into HTML and FTP files to your website.
Practical use
View images and text on the Web
A built-in Web browser lets you check uploaded images online and surf the Web for information.
Send files directly to a remote PC
You can install dial-up server software on a modem-equipped PC and dial and upload directly to that PC.
Fax text images from your camera
To communicate with people without Internet access, the RDC-i700 can also fax crisp black-and-white images taken in Text mode.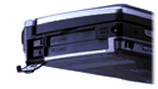 To e-mail and upload files to the internet directly, you will need a communication card.
What you can do using a PC
Using the Communication and Image Upload functions