GR DIGITAL
Features1
Ricoh's unrivaled GR Lens enters the digital age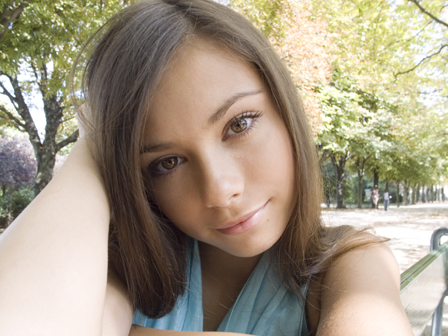 The texture of skin. The details of a single strand of hair. All is revealed in a subject standing out against a blurred background.
1/68sec, F3.5, ISO64, EV+0.3, (Full-size photo; no trimming)
Exceptional resolution and low distortion
in a single lens unit
Superb image resolution that clearly captures individual hairs. Crisp image quality even in the periphery. These are the proud hallmarks of Ricoh's highly renowned GR Lens, which is breathing new life into digital photography. As illustrated by the MTF curves below, the GR Lens (F2.4, f=5.9mm, equivalent to 28mm focal length on 35mm film camera) compensates for various aberrations, as well as weaker light in the periphery to deliver high-resolution, high-contrast reproduction over the entire image. This exceptional optical performance is ideal for pan-focus, wide-angle photos and empowers users in all shooting environments by providing sharp images with natural color even when the aperture is fully open. With its standout performance and unique personality, this new GR Lens is worthy of inheriting the GR name.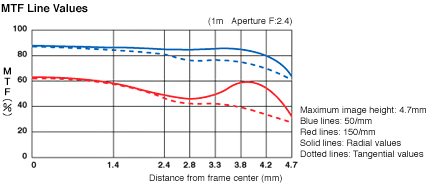 Retractable 5-group 6-lens unit
showcases original Ricoh technology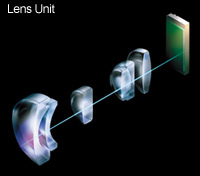 The GR Lens fully compensates for aberrations throughout the wide 28mm field of view by employing six high-quality optical glass lenses in five groups with a special low dispersion lens and two molded aspherical lenses. Multi-coated lens surfaces help direct all wavelengths toward the image sensor for maximum lens brightness, and a large maximum aperture of F2.4 enabled Ricoh to strike a fine balance between large lens diameter and compact dimensions. The original, space-saving design of this retracting lens system combines with a micro-precision drive to enable housing of the high-performance 28mm equivalent lens unit within a slender 25mm body.
Beautiful blurred backgrounds through
seven aperture blades

Fine-tuning of the aperture between F2.4 and F9 settings is possible in 1/3EV step increments, allowing photographers to adjust depth of field and achieve beautiful blurred backgrounds whenever desired. The quality of blurred backgrounds is especially high because seven aperture blades (an odd number) form a nearly circular lens iris not only when the aperture is fully open, but also when the aperture is nearly closed.