GR DIGITAL
GR DIGITAL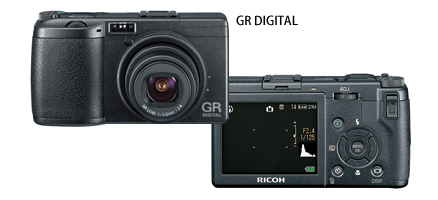 GR DIGITAL Main Specifications
Item

Description

Imaging device

1/1.8 primary color CCD with 8,130,000 effective pixels (total pixels: 8,300,000)

Lens

| | |
| --- | --- |
| <Focal distance> | f=5.9 mm (28 mm converted to 35mm format camera) |
| <Brightness (F)> | F 2.4 to F 11 *1 |
| <Lens composition> | 6 elements; 5 groups: 7 diaphragm blades |

Digital zoom

4.0x

Shooting range

About 0.3 m to infinity from lens tip

Macro shooting range

About 0.015 m to infinity from lens tip

Shutter

<Stil> 180, 120, 60, 30, 15, 8, 4, 2, 1 - 1/2,000 sec.
<Video> 1/30 -1/2,000 sec.

Pixels

| | |
| --- | --- |
| <Still> | 3,264 x 2,448; 3,264 x 2,176; 2,592 x 1,944; 2,048 x 1,536; 1,280 x 960; 640 x 480 |
| <Text> | 3,264 x 2,448; 2,048 x 1,536 |
| <Video> | 320 x 240; 160 x 120 |

Picture-quality modes *2
F (Fine)/N (Normal)/RAW *3
ISO sensitivity*4

AUTO; 64; 100; 200; 400; 800; 1,600

Flash

Auto/ redeye suppression/ force flash/ slow synchro/ flash off Throw distance*5 approx. 0.2 to 3 m

Focus

Autofocus/ manual focus/ snap/ infinity (AF supplemental light also available)

Exposure adjustment

TTL-CCD photometric system: multi (256 div.)/ center focus photometry/ spot photometry

Exposure compensation

Manual correction (+2.0 to -2.0 EV 1/3 EV steps); auto bracket feature (-0.5 EV; ±0; +0.5 EV)

White balance

Auto; fixed (Daylight/ Overcast/ Tungsten Light/ fluorescent light/ manual/ advanced); white balance bracket feature

Recording media

SD memory card (3.3V 32/ 64/ 128/ 256/ 512MB/ 1GB); multimedia card; built-in memory (26 MB)

Storage capacity*6 (built-in 26 MB storage)

| | |
| --- | --- |
| <Still> | 3,264 x 2,448: RAW: 1/F: 8/ N: 14; 3,264 x 2,176: RAW: 1/F: 9; 2,592 x 1,944: N: 22; 2,048 x 1,536: N: 36; 1,280 x 960: N: 63; 640 x 480: N: 277 |

Storage time (built-in 26 MB storage)

| | |
| --- | --- |
| <Video> | 320 x 240: 39 sec (30 frames/sec); 160 x 120: 2 min 26 sec (30 frames/sec) *7 |
| <Audio> | 56 min 45 sec *8 |

Storage data capacity

| | |
| --- | --- |
| <Still> | 3,264 x 2,448: RAW: about 11.52 MB/screen; F: about 2.83 MB/screen; N: 1.63 MB/screen 3,264 x 2,176: RAW: about 10.25 MB/screen; F: about 2.57 MB/screen; 2,592 x 1,944: N: about 1.03 MB/screen; 2,048 x 1,536: N: about 672 KB/screen;1,280 x 960; N: about 356 KB/screen; 640 x 480: N: about 83KB/screen |

Recording modes

Photo (Still, Continuous, S-Continuous, M-Continuous),
Program shift/ Aperture-Priority/ Manual exposure, Scene (Text, Sound), Motion

Recording formats

| | |
| --- | --- |
| <Still> | compression: JPEG *9 (Exif ver. 2.21); RAW(DNG) *10 |
| <Text> | TIFF (MMR format/ITU-T.6) |
| <Video> | AVI (Open DML Motion JPEG format compliant) |
| <Audio> | WAV (Exif ver. 2.21 μ law) |

LCD monitor

2.5 inch low-noise polysilicon TFT LCD; about 210,000 pixels

Self timer

Operating time: about 10 sec/ 2 sec

Interval timer

Shooting interval: 5 sec. to 3 hours (units of 5 sec.)*11

PC interface

USB 2.0; Ricoh original mass storage selectable*12

AUDIO/ VIDEO interface

Audio OUT/ Video OUT

Video signal format

Switch between NTSC & PAL

Dimensions

107.0 x 25.0 x 58.0 mm (WxDxH); does not include protruding parts

Weight

About 170 g (not including battery/ SD memory card/ strap); supplied parts: 30g (battery/ strap)

Power

1 Rechargeable battery (DB-60); AC adapter (AC-4c option); 2 AAA alkaline dry-cell batteries
2 AAA Oxyride dry-cell batteries; 2 AAA nickel-hydrogen dry-cell batteries
Shooting
capacity*13

| | |
| --- | --- |
| CIPA-standard compliant | DB-60 used: about 250; When AAA alkaline dry-cell battery used: about 30 *14 |

Temp. range for use

0°C to 40°C
*1:

If mode dial is set to , ND filter is used in F7.1-F11 range.

*2:

Image-quality modes that can be set depend on the image size.

*3:

Simultaneous storage with Fine mode (JPEG).

*4:

ISO 1600 cannot be chosen when shooting in the RAW mode.

*5:

Throw distance when ISO AUTO set.

*6:

General estimate of number of still images stored.

*7:

A 1GB SD card can record for a maximum of 88 minutes 31 seconds.

*8:

A 1GB SD card can record for a maximum of 2,063 minutes 25 seconds.

*9:

DCF compliant; DPOF supported. DCF is an abbreviation for Design rule for Camera File system standardized by JEITA. (full compatibility between devices not guaranteed).

*10:

DNG is a particular RAW format advocated by Adobe systems incorporated.

*11:

With Flash off.

*12:

Mass storage supports Windows Me/2000/XP and Mac OS 9/X 10.2-10.4. Windows 98/98SE and Mac OS 8.6 not supported.

*13:

The numbers of photos that can be taken were measured using conditions compliant with the CIPA standard. They are only given as a rough guide.

*14:

The actual number of photos that can be taken will differ greatly depending on conditions of use and battery manufacturer.