Caplio RZ1
Features1:At last, a camera that shows your true colors- the new Ricoh Caplio RZ1.
It's always easy to find a digital camera with the latest specifications and functions. But where is the one that also coordinates with your mood?
Introducing the new Ricoh Caplio RZ1, the digital camera that shows your true colors in every way.
It's simply stylish. And fully loaded—4.0-megapixel resolution, a top shutter speed of 0.003 seconds, 1cm macros and much more. Get the Caplio RZ1, the perfect accessory for any occasion.
Stylish shape conforms to your hand.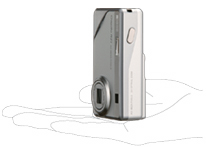 Slim. Curvaceous. A perfect match.
One camera, many styles.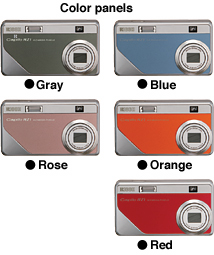 Introducing the digital camera that wears its colors like clothes. With five color panels, you can change your camera's look to suit your mood. One camera. Six different styles. The Caplio RZ1.
*

The RZ1 front panel colors will vary depending on the sales region.
New style meets stress-free.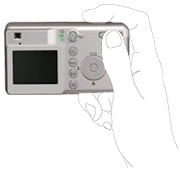 Remember those times when your digital camera's shutter operated too slowly and its battery always ran down too quickly? Say hello to the future.