Caplio RZ1
Caplio RZ1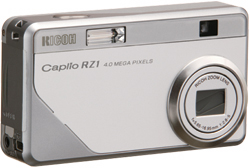 Major Specifications
Item

Description

Recording format

Still :JPEG(Exif ver.2.21) DCF *1 compliant
Text :TIFF(MMR system ITU-T.6)
Motion :AVI(Open DML Motion JPEG format compliant)

Video Signal Method

NTSC/PAL

Recording Media

SD Memory Card TM (32/64/128/256/512MB),
MultiMediaCard TM

CCD

Effective 4 million pixels (4.19 million square pixels)

Resolution

Still :2304 x 1728, 1600 x 1200, 1280 x 960, 640 x 480
Text :2304 x 1728, 1280 x 960
Motion :320 x 240, 160 x 120

Recording Mode

Still (Continuous,S-Continuous,M-Continuous),
Scene (Portrait,Sports,Landscape,Night Scene,Text,High-Sensitivity),Motion

Picture Mode

Fine, Normal

Storage capacity
(No. of pictures)
(Internal 12MB Memory) *2
Still
6(2304 x 1728 Fine),
12(2304 x 1728 Normal),
10 (1600 x 1200 Fine),
20(1600 x 1200 Normal),
15 (1280 x 960 Fine),
29(1280 x 960 Normal),
127(640 x 480 Normal)
Storage capacity(time)
(Internal 12MB Memory)
Motion :35 seconds(320 x 240), 129 seconds(160 x 120) *3
Storage data capacity
(File sizes)
Still
Approx.1.54MB(2304 x 1728 Fine),
Approx.804KB(2304 x 1728 Normal),
Approx.964KB(1600 x 1200 Fine),
Approx.495KB(1600 x 1200 Normal),
Approx.626KB(1280 x 960 Fine),
Approx.326KB(1280 x 960 Normal),
Approx.83KB(640 x 480 Normal)

Lens

Focal range f:5.65-16.95mm(equivalent to 35-105mm for 35mm film cameras)
Aperture F:2.8(W)-5.0(T)
Lens structure 9 glass elements in 7 groups

Digital Zoom

x3.6(Maximum x 10.8 in combination with optical zoom)

Shutter

Still :8,4,2,1-1/2000sec.
Motion :1/15-1/2000 sec.

Object distance

Approx.0.6m-∞ (Macro:Approx.0.01m-∞ ,
Telemacro:Approx.0.16m-∞)

ISO Sensitivity

Auto, ISO64, ISO100, ISO200, ISO400, ISO800,

View Finder

Real-image optical zoom finder

LCD Monitor

1.8 inch translucent amorphous silicon TFT LCD (approx. 85,000 pixels)

Flash *4
Auto, Red-eye Reduction, On, Slow Synchro, Off
Distance:Approx.0.17-3.0m(W), 0.16-2.0mm(T) (ISO auto )

Focus

Autofocus,Manual Focus,Fixed Focus(Snap), ∞

Exposure Adjustment

TTL-CCD photometric system:Multi(256 segments), Center Weight, Spot

Exposure Compensation

Manual compensation(+2.0-2.0 EV in 1/3 EV steps)

White Balance

Auto/Fixed (Daylight, Overcast, Tungsten Light, Fluorescent Light, One push)

Self Timer

Delay:10sec., 2sec.

Interval Timer

Shooting interval:30sec.-3hours(30 sec.steps)

PC Interface

USB1.1

AV Interface

Video Out

Power source

AA battery (alkaline/NiMH rechargeable battery) x 2,
rechargeable battery (DB-50) x 1, AC adaptor (AC-4b)
Shooting Capacity *5
Using DB-50:Approx.500 pictures(normal)
Using AA alkaline batteries:Approx.300 pictures(normal)
Dimensions
(W x D x H)

102.4 x 25.1 x 56.7mm(excluding projections)

Weight

Approx. 125g (excluding battery, SD Memory Card, hand strap)

Operating Temperature

0-40°Cs
*1:

DCF is the abbreviation of JEITA Standard "Design rule for Camera Files system".
(It does not guarantee perfect inter-camera compatibility.)

*2:

General guide for still-picture recording capacity

*3:

Max. recording time of 88 min. 07 sec. with 512MB SD memory card

*4:

Distance is valid when ISO auto or ISO400 are set.

*5:

Under Ricoh measurement parameters. Actual performance may vary depending on the condition of use. Normal mode: Approx. 30 second intervals using flash and zoom for 1 out of 2 photos, AA alkaline batteries allow usage of approx. 150minutes.