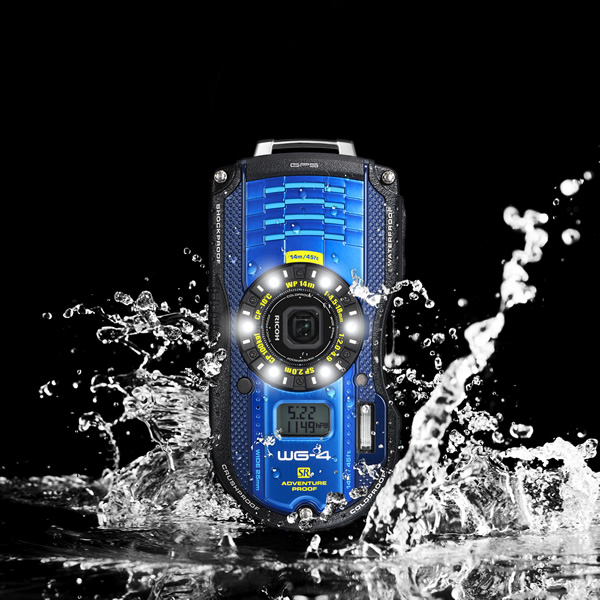 The WG-4 is a rugged model fit for serious use in extreme outdoor environments. It has waterproof specs for up to 2 hours of continuous use at a depth of up to 14 meters, shock resistance able to handle 2 meter drops, cold-resistant construction for operation even at -10°C, and crush-resistant construction for loads up to 100 kgf (kilogram-force).

The large wide-frame high-resolution 460,000-dot LCD monitor of the WG-4 features an AR (anti-reflection) coating that suppresses light reflection to reduce glare so that it is bright and easy to see even outdoors in strong sunlight.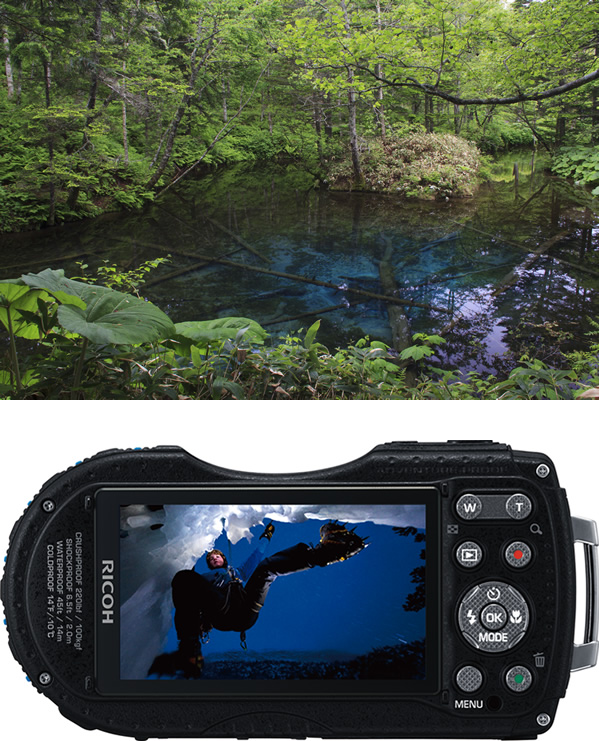 The high image quality brings to life vast natural landscapes and nightscapes as well as scenes shot underwater and in other harsh shooting environments.
With a bright large-aperture F2.0 lens and a back-illuminated CMOS image sensor with superior high-sensitivity and low-noise performance, the WG-4 suppresses noise to produce high-quality images even in low-light situations such as underwater shooting and nightscapes. Starting from a wide 25 mm (equivalent in 35 mm format), the 4x optical zoom provides an extensive range of coverage for capturing a variety of scenes, from macro shots of flowers to expansive landscapes.

In addition, with dual motion blur reduction combining sensor-shift-type SR (Shake Reduction) and electronic shake reduction, the WG-4 can produce sharp minimal-blur images even in shooting conditions where camera shake tends to occur, such as landscapes at sunset and low-light scenes shot with the flash off.

There is also a movie function capable of shooting long high-quality full HD (1920 x 1080 pixel) size movies. So that you can easily enjoy a wide range of visual expression, the WG-4 offers a High Speed Movie function capable of slow-motion playback and a Time-Lapse Movie function capable of fast-motion playback.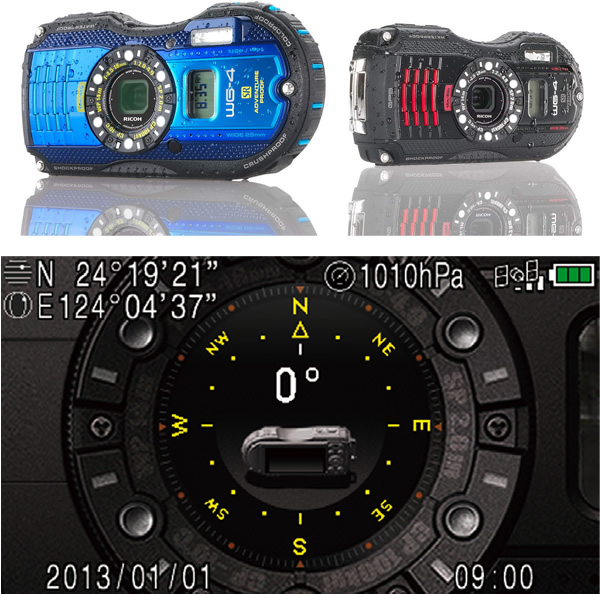 Diverse functions expand your enjoyment when shooting outdoors.
Using Digital Microscope Mode, the six LED lights around the lens brightly illuminate the subject so you can easily photograph the micro world without worrying about the camera's shadow. These LED lights can be set to increase intensity at the moment of shooting in order to reduce hand and subject motion blur, and they can also be used as a local light source when in dark places.

The WG-4 GPS has an electronic compass so you can check shooting location information (air pressure, height/depth, direction) with the camera. Using the GPS, the WG-4 can simultaneously record location information along with shooting data so captured image information can be linked to a map, thereby expanding the scope of your travel enjoyment by enabling you to display and review your route on a PC after coming home.
Other
(1)The sub-display indicator on the front of the body displays time, air pressure and height/depth information (WG-4 GPS only).
(2)Having remote control receivers on both the front and back of the body expands usage possibilities.
(3)The electronic level function enables you to check horizontal and vertical tilt.
(4)The O-CC135 Camera Case has a belt loop.
(5)The O-CC1352 Protector Jacket accessory protects the camera body from scratches and dirt.
(6)The O-LA135 Lens Adaptor makes it possible to mount the DW-5 Ricoh Wide Conversion Lens (now on sale) for wide-angle photography at approximately 20 mm (equivalent in 35 mm format).
(7)The O-ST1352 Floating Wrist Strap protects against camera loss while floating in the water.
(8)The packaged Carabiner Strap enables easy attachment to backpacks, etc.
(9)Digital filter function with 12 filter types
(10)Eye-Fi communication function using a Wi-Fi internal memory card