Digital Compact Camera: Optio RZ10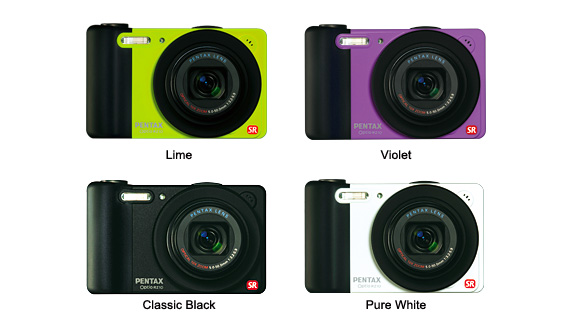 Powerful optical 10X zoom lens with 14.0-megapixel image quality
Thanks to the capable teaming of a versatile optical 10X zoom lens covering 28mm wide angle to 280mm telephoto (in the 35mm format) and 14.0 effective megapixels assuring super image quality, the Optio RZ10 captures sharp, beautiful images of many different subjects, including spectacular landscapes and memorable travel scenes.
Tasteful, fashionable design with no frills
The Optio RZ10 is designed to be simple yet fashionable and functional, with meticulous attention given to every detail. All parts are designed for maximum comfort and operability — from the rounded edges of the camera body and the easy-to-hold, rubber-coated black grip, to the beautiful alumite-finished lens barrel with a black-colored finish with a texture delicately different from that of the grip. The Optio RZ10 also offers a choice of four distinctive body colors (vivid Lime, elegant Violet, lustrous Pure White, and matte-finish Classic Black): each color creates a totally different impression of the camera.
16-scene Auto Picture mode for hands-off selection of the most appropriate shooting mode
The Optio RZ10's advanced Auto Picture mode automatically selects the most appropriate shooting mode for a given scene or subject. With the addition of eight new modes including Blue Sky, Sunset and Pet, it now offers a total of 16 different shooting modes to make this user-friendly feature more versatile than ever.
Dual anti-shake protection to prevent camera shake and subject shake
The Optio RZ10 combines the CCD-shift-type SR (Shake Reduction) system with the advanced Digital SR mode to effectively minimize camera shake during still-image shooting. You may choose to activate the CCD-shift-type SR system only. For movie recording, it also features the Movie SR mode to prevent camera shake and subject shake exclusively during movie recording.
Striking macro images from down to just one centimeter
Since the Optio RZ10's macro mode lets you approach subject up to a distance of just one centimeter, you can capture lively, striking close-up shots with great ease.
HD-proportion movie recording for beautiful, flawless movie clips
The Optio RZ10 captures beautiful, high-quality movie clips at sizes up to 16:9 high-definition-TV proportions.
Note: when the Optio RZ10's AV output terminal is used, movie clips are output as standard NTSC/PAL data. The data must be transferred to a PC for the playback of movie clips at high-definition-TV proportions (1280 x 720 pixels).
Unique Pet mode for automatic detection of dog and cat faces
The Optio RZ10 features an upgraded version of the popular Pet mode, which is programmed to detect even the unregistered faces of dogs and cats. The accuracy of detecting three pre-registered faces has also been greatly improved. Since this advanced mode automatically releases the shutter the moment your pet looks directly at the camera, you are assured of great shots of the cute face of your pet.
Other features
Large, easy-to-view 2.7-inch color LCD monitor with approximately 270,000 dots
Burst shooting of up to 40 images in a single sequence, at a maximum speed of approximately 9.1 images per second
Creative digital filters, including Toy Camera and Retro
Small Face filter to make the subject's face appear slightly smaller in a captured image than in reality
Smile Capture mode to automatically release the shutter the instant the subject's smile is detected
Face Recognition AF & AE function to automatically capture up to 32 faces in optimum focus and exposure; and Blinking Detection function to warn you when the subject's eyes close at shutter release
Eye-Fi connected: optimized for use with Eye-Fi wireless memory cards
Auto-tracking AF mode to keep constant focus on a moving subject
Frame Composite function to decorate captured images with photo frames
World time function to display the standard time of 75 cities in 28 time zones around the world and the time difference between your home and travel destination
---
Optio RZ10 standard accessories
• Rechargeable lithium-ion battery • Battery charger • AC power cord • USB cable • AV cable • Strap
Software (CD-ROM)
• MediaImpression 2.0 for PENTAX image viewing, filing and editing software (Windows and Macintosh versions)
USB connection requirements
• PCs running Windows XP SP2, Vista or 7
• Macintosh computers running OS X (Ver. 10.3.9, 10.4, 105 or 10.6)
Notes:
The operating system must be pre-installed and updated to the latest version.
The computer must be equipped with USB terminals.