| | |
| --- | --- |
| 35mm Compact Cameras: ESPIO 140V | |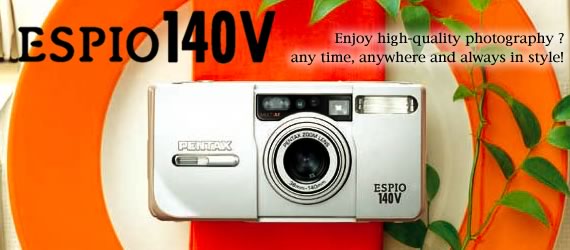 Compact, Lightweight Body with 38mm-140mm 3.7X Zoom Lens
Thanks to PENTAX's innovative Switchover Zoom system, the ESPIO140V combines compact dimensions with high-magnification zoom photography. Its approximately 3.7X zoom lens covers a broad focal-length range between 38mm wide angle and 140mm telephoto for outstanding picture-framing flexibility.



Full-Face Lens Protector to Conceal the Entire Lens Barrel
The ESPIO140V's functional lens protector covers the entire lens barrel at the storage position, resulting in a single, capsule-like package that gives maximum protection when the camera is not in use. This sliding protector double-functions as a power switch to simplify camera operation.



Fashionable Design with Maneuverability and Holding Comfort
The ESPIO140V features a colorful, eye-catching design, while its functionally contoured body is designed with the utmost attention to every detail, including horizontally extended proportions to ensure superb holding comfort in your hand and a gently curved lens protector to facilitate smooth sliding action.