| | |
| --- | --- |
| 35mm Compact Cameras: ESPIO 120SWII | |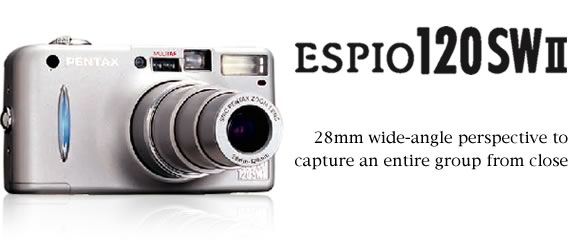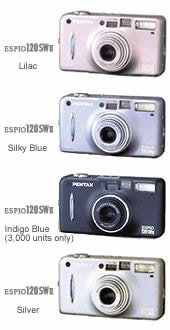 Versatile 28mm-120mm 4.3X Zoom Lens for a Variety of Subjects
The ESPIO120SWII's high-performance zoom lens lets you capture the entire family or a group of friends gathered in a confined space at its 28mm wide-angle setting, or produce a detailed image of a distant subject with 120mm telephoto. Any subject that falls between these two focal lengths can be photographed sharply and beautifully with minimal effort.



Informative Illumination Grip for Visual Confirmation
The unique illumination grip incorporates a blue LED indicator that emits signals for visual confirmation of power on/off, self-timer and remote control operation, and AF status. When the shutter release button is pressed halfway down, it either lights up to inform you that the subject is captured in focus, or flashes to warn that it's out of the AF range — a feature especially convenient when taking self-portraits by holding the camera by hand.



Soft Flash Function for Close-Range Flash Photography
The ESPIO120SWII offers a minimum focusing distance of 0.5m over the entire zoom range and a maximum magnification of approximately 0.32X at the 120mm telephoto end. What's more, it features the soft flash function, to prevent overexposed, washed-out images — a common problem when taking flash-assisted pictures in a close range — and produce natural, true-to-life colors and textures.



Memory Function to Display the Last Day of Shooting
When the power is turned on while a partially used roll of film is still loaded in the camera, the ESPIO120SWII displays the date of your previous picture-taking session to refresh your memory on what's already on the film.