| | |
| --- | --- |
| 35mm Compact Cameras: ESPIO 105WR | |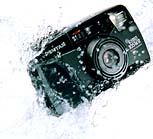 JIS Class 5 Weather-Resistance against Rain, Snow and Dust
With the ESPIO105WR's reliable weather-resistant body, you are free to take pictures in the rain or snow, in the mist of a waterfall or in the splashes of a marine vehicle. You can even rinse it clean with fresh water when it gets dirty or dusty.



38mm-105mm Zoom Lens for Picture-Framing Flexibility
The high-performance 38mm-105mm zoom lens offers a zoom range of approximately 2.8 times, so you're equipped for a wide range of subjects and situations.
Large, Accessible Controls for Enhanced Operability
The ESPIO105WR features large, easy-to-operate controls, including the main switch and the zoom lever, to ensure speedy, effortless camera operation.
High-Precision 5-Point AF, plus User-Selectable Spot AF
The ESPIO105WR's 5-point autofocus system captures your subject in sharp, crisp focus with unfailing precision, even when it is positioned off center. You can switch to spot AF to pinpoint focus on a single element of the subject or avoid any obstacle that stands between you and the subject.
Large LCD Panel for At-a-Glance Data Confirmation
Conveniently positioned on the top panel, the large LCD panel provides a range of important camera data at a quick glance.
Reliable Multi-Segment Metering for Accurate Exposure Control
The ESPIO105WR's two light-metering sensors measure lighting conditions with great accuracy. They even detect low-light and backlight conditions to automatically activate the built-in flash for proper exposure.
Other Outstanding Features
• Actual-image zoom viewfinder with built-in diopter adjuster
• High-power auto zoom flash with red-eye reduction function
• Remote control operation with delayed shutter release (in combination with an optional remote controller)
• Zoom macro to take close-up images from 0.65m at any focal length
• Panorama frame for breathtaking wide-perspective pictures, with convenient mid-roll switching capability