Digital Compact Camera: Optio E70


The Optio E70's shutter release button on the top panel and other control buttons on the back panel are designed to be considerably larger than those of conventional models to facilitate camera operation. Its LCD monitor also features large letters, numbers and icons for the indication of date and time, shooting and playback modes, and essential operational data. These unique features are a great help to camera users with little photographic experience and those unfamiliar with gadgets, making them feel at home with shooting and viewing of digital images.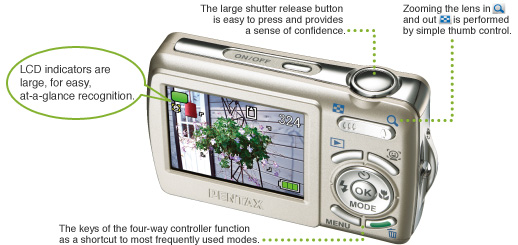 The Optio E70's Auto Picture mode features a variety of shooting modes to handle the subjects and scenes you're likely to encounter on the road. As soon as you press the shutter release button halfway down, the Optio E70 automatically and instantly selects the most appropriate shooting mode for a given subject or scene to preserve it in beautiful, high-quality images.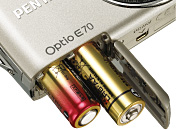 Since the Optio E70 is powered by world-standard AA-size batteries, you can easily obtain replacements almost anywhere in the world. You can capture as many as 620 images with a fresh pair of lithium batteries, or up to 210 images with alkaline batteries.
* The numbers of recordable images were measured using testing conditions specified by the CIPA standards. These numbers may vary depending on shooting conditions.

The Optio E70's Face-Recognition AF & AE function is designed to automatically record beautifully exposed, sharply focused faces — up to 32 faces in total. This feature comes in handy when taking group snapshots. What's more, the Smile Capture function automatically releases the shutter the instant it detects your subject's smile, while the Blink Detection function warns you when the subject's eyes close at the time of shutter release.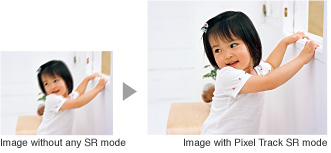 During still-image shooting, the Optio E70 automatically activates a new digital shake-reduction mode called Pixel Track SR. In situations susceptible to camera shake and subject shake, such as indoor and sunset scenes, it activates the High-Sensitivity SR mode to automatically raise the sensitivity level up to ISO 6400 for a faster shutter speed. In movie recording, it employs the Movie SR mode. Combining these three anti-shake modes, the Optio E70 effectively minimizes the adverse effects of camera shake and subject shake for almost all kinds of subject and scene.

10.0 Effective Megapixels for High-Quality, Fine-Detailed Images
With approximately 10.0 effective megapixels, the Optio E70 reproduces subjects faithfully and brilliantly, including the delicate texture of skin and hair. By combining a 3X optical zoom lens with 5.7X digital zoom capability, you can also magnify your subject up to 17.1 times to capture fine-detailed images.
---
For Printing
PictBridge Compatibility for Direct Printing Convenience

When connected to a PictBridge-compatible printer via the included USB/AV cable, the Optio E70 offers convenient direct printing, eliminating the need to transfer image data to your PC. This direct-printing convenience is available with any PictBridge-compatible printer, regardless of make or model.
Compatibility with Exif Print, PRINT Image Matching and DPOF
The Optio E70 is compatible with Exif Print and PRINT Image Matching III to produce beautiful printouts faithful to the camera data. It is also compatible with DPOF (Digital Print Order Format) to control the number of prints and date imprint information.
For TV Monitor Viewing and Image Copying
AV Output Terminal for Easy TV Monitor Viewing

When you like to share recorded images and movies with your family or friends, simply connect the Optio E70 to a TV monitor via the included USB/AV cable. You can play back memorable scenes and sounds on a larger screen for great fun.
Copying Memorable Images and Movies to DVD and Videotape
When you want to share special memories with your friends or relatives, you can make copies of recorded images or movies on a DVD or videotape, simply by connecting the Optio E70 to a DVD recorder or video deck via the included USB/AV cable. Such copies also allow other people to watch the memorable scenes comfortably on a larger TV or projector screen.
For Image Editing
Image Transfer to PC via USB/AV Cable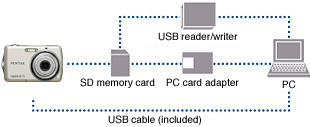 Using the included USB/AV cable, you can easily transfer images captured by the Optio E70 to your PC, for use on a Web site or in a photo album.
ACDSee for PENTAX (Windows and Mac versions) for Image Viewing and Filing

The Optio E70 comes with the ACDSee for PENTAX software (available on the accompanying CD-ROM) for the viewing and filing of recorded images on a PC. The Windows version offers a host of image editing functions, including brightness and color controls and special effects, for the production of refined, original images.
---
Optio E70 Standard Accessories
•Two AA-size alkaline batteries •USB cable •AV cable •Strap
Software (CD-ROM)
•ACDSee for PENTAX 3.0 image viewing, editing and filing software for Windows
•ACDSee 2.0 for Macintosh image viewing and filing software
USB connection requirements:
•PCs running Windows2000, XP or Vista™.
•Macintosh computers running OS X (Ver. 10.1.2 to 10.5).
Notes:
•The operating system must be pre-installed and updated to the latest version.
•The computer must be equipped with USB terminals.
---