Digital Compact Camera: Optio E40


The Optio E40 features the advanced Face-Recognition AF & AE function, which automatically detects the position and lighting condition of the subject's face and optimizes focus and exposure settings. As the result, you can always capture the subject's smiling face in sharp focus and perfect exposure, with natural, beautiful skin tones.


When the Optio E40 detects low-lighting conditions, its Digital SR system automatically raises its sensitivity level to set a faster shutter speed. This allows you to preserve images like a child's stage performance in sharp, bright images — even when the stage is dimly lit and susceptible to camera shake and subject shake.



When you set the Optio E40 to the Auto Picture mode, the camera automatically selects the most appropriate shooting mode for a given subject or scene. Thanks to this user-friendly mode, you can capture clear, beautiful images, frame after frame, with a single push of the shutter release button.


Since the Optio E40 is powered by world-standard AA-size batteries, replacement batteries can be easily obtained almost anywhere in the world. A fresh pair of AA-size lithium batteries gives you approximately 640 images,* while a fresh pair of AA-size alkaline batteries offers approximately 240 images.*
* The numbers of recordable images were measured using testing conditions specified by the CIPA standards. This may vary depending on shooting conditions.
---
8.1 Effective Megapixels for High-Quality,
Fine-Detailed Images
With 8.1 effective megapixels, the Optio E40 reproduces subjects faithfully and brilliantly, including the delicate texture of skin and hair. Combining a 3X optical zoom lens with 4X digital zoom capability, you can also magnify your subject up to 12 times to capture fine-detailed images.
Large, Easy-to-Hold Grip for Holding Comfort
and Fatigue-Free Shooting
Ergonomically designed and perfectly sized, the Optio E40's grip assures a firm, comfortable hold over a long period of time, even for first-time digital camera users.
---
For Printing
PictBridge Compatibility for Direct Printing Convenience

When connected to a PictBridge-compatible printer via the included USB cable, the Optio E40 offers convenient direct printing, eliminating the need to transfer image data to your PC. This direct-printing convenience is available with any PictBridge-compatible printer, regardless of make or model.

Compatibility with Exif Print, PRINT Image Matching and DPOF
The Optio E40 is compatible with Exif Print and PRINT Image Matching III to produce beautiful printouts faithful to the camera data. It is also compatible with DPOF (Digital Print Order Format) to control the number of prints and date imprint information.
For TV Monitor Viewing and Image Copying
AV Output Terminal for Easy TV Monitor Viewing

When connected to a TV monitor via the included AV cable, the Optio E40 lets you play back recorded images and movies with sound on a larger screen for fun viewing with family and friends.
Copying Memorable Images and Movies to DVD and Videotape
When you want to share special memories with your friends or relatives, you can make copies of recorded images or movies on a DVD or videotape, simply by connecting the Optio M40 to a DVD recorder or video deck via the included AV cable. Such copies also allow other people to watch the memorable scenes comfortably on a larger TV or projector screen.
For Image Editing
Image Transfer to PC via USB Cable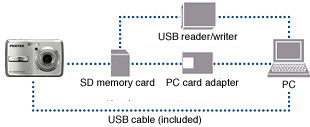 Using the included USB cable, you can easily transfer images captured by the Optio E40 to your PC, for use on a Web site or in a photo album.
ACDSee for PENTAX (Windows and Mac versions) for Image Viewing and Filing

The Optio E40 comes with the ACDSee for PENTAX software (available on the accompanying CD-ROM) for the viewing and filing of recorded images on a PC. The Windows version offers a host of image editing functions, including brightness and color controls and special effects, for the production of refined, original images.
---
Convenient All-in-One Package
•Two AA-size alkaline batteries •USB/AV cable •Strap •Dock insert
Software (CD-ROM)
ACDSee for PENTAX image viewing, editing and filing software for Windows
ACDSee for PENTAX image viewing and filing software for Macintosh
USB connection requirements:
PCs running Windows2000, XP or Vista™.
Macintosh computers running OS 9.2 or X (Ver. 10.1.2 or later).
Notes:
The operating system must be pre-installed and updated to the latest version.
The computer must be equipped with USB terminals.
---