Lens coating technologies of PENTAX that continue to evolve
PENTAX has had a reputation for their lens coating technologies since the 1950's when they were manufacturing lenses for products by other companies. Starting with the world's first multi-layer coating, "Super-Multi-Coating," up to this day, PENTAX has continued to polish their power of expression with various coating technologies. Amongst such, the following are some representative types of coating.
---
Aero Bright Coating
The Aero Bright Coating is the latest lens coating technology that has been created using nanotechnology. On top of a normal multi-layer coating, a layer of silica aero gel having homogeneous gaps of air is applied as a coating. By letting air with a low refractive index in between the stable silica nano particles, a coating having an ultra-low refractive index and high transparency is achieved. Surface reflection has been greatly reduced. Furthermore, by using a new super-low refractive index layer formation process, we have developed "Aero Bright Coating II" which enhances low-reflectance properties.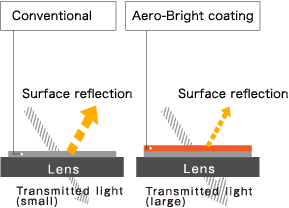 HD Coating
In general, multi-layer coatings involve forming a thin layer on the surface of the lens with vacuum deposition. However, with this method, it was difficult to increase the density of the coating layer. There was also the issue of uneven layer thicknesses and refractive rates. These were due to the manufacturing method. The "HD Coating" resolved such issues by using a special manufacturing method. A high density layer is formed with high precision in the order of nanometers.
By realizing precision with the designed layer thickness, reflectance over the entire visible light range has been greatly reduced (less than 50% of conventional multi-layer coating).
This is effective in suppressing ghosts and flares. In addition, the extremely hard layer also realizes excellent durability.
Multi-layer Coating
Interchangeable lenses by PENTAX are created with a unique multi-layer coating which reduces surface reflection to approximately one tenth of that of a lens having a single layer coating.
With this coating, while increasing the transmittance of light across the entire visible light range, harmful UV rays are cut almost entirely. This minimizes the occurrence of ghosts and flares in bad lighting such as backlight and makes it possible to capture images with great transparency.
SP Coating
A special coating uniquely developed by PENTAX which has the effect of protecting the lens by being applied to the front of the first lens. With excellent water and oil repellency making it more difficult for dust, water, and oil to make stains on the lens. This coating also provides the feature of enabling easy removal even in the case that the lens becomes dirty.