Caplio GX8
Caplio GX8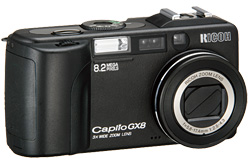 Caplio GX8 Major Specifications
Item

Description

CCD

Effective 8.24 million pixels (8.50 million pixels), 1/1.8-inch primary-color CCD

Lens

| | |
| --- | --- |
| Focal length f: | 5.8-17.4mm (equivalent to 28-85mm for 35mm film cameras) |
| | Step-zoom intervals: 4 steps (28mm, 35mm, 50mm, 85mm) |
| Aperture | F: 2.5 (W)-4.3 (T) |

Lens structure 9 glass elements in 7 groups

Optical Zoom

3.0x (up to 12.0x in combination with 4.0x digital zoom)

Object Distance

Approx. 0.3m-∞ (Macro: Approx. 0.01m -∞,
Telemacro: Approx. 0.10m -∞)

Shutter

Still

30,15,8,4,2,1-1/2000 sec.
(electronic/mechanical shutter), During long-term exposure, has noise Elimination function.

Motion

1/30-1/2000 sec.(electronic shutter)

Pixels

| | |
| --- | --- |
| Still | 3264 x 2448, 2592 x 1944, 2048 x 1536, 1280 x 960, 640 x 480 |
| Text | 3264 x 2448, 2048 x 1536 |
| Motion | 320 x 240, 160 x 120 |

Picture Mode *1

Fine, Normal, Non-compression

ISO Sensitivity

Auto, ISO64, ISO100, ISO200, ISO400, ISO800, ISO1600

Flash *2
Auto, Red-eye Reduction, On, Slow Synchro, Off
Distance: Approx. 0.2-5.0m (W), 0.15-2.9m (T)

Focus

Autofocus,Manual Focus, Fixed Focus (Snap), ∞ (includes AF auxiliary light) *3

Exposure Adjustment

TTL-CCD photometric system: Multi (256 segments), Center Weight, Spot

Exposure Compensation

Manual compensation (+2.0--2.0 EV in 1/3 EV steps), Auto-bracket (-0.5 EV, ±0,+0.5 EV)

White Balance

Auto/Fixed (Daylight, Overcast, Tungsten Light, Fluorescent Light, One Push, White blance-bracket)

Recording Media

SD Memory Card TM (32/64/128/256/512MB/1GB), Multi Media Card, TM Built-in Memory 26MB
Storage Capacity
(No.of Pictures) *4
(Internal 26MB Memory)

Still

1 (3264 x 2448 Non-compression),
8 (3264 x 2448 Fine), 14 (3264 x 2448 Normal)
23 (2592 x 1944 Normal), 36 (2048 x 1536 Normal),
64 (1280 x 960 Normal),
280 (640 x 480 Normal)

Storage Capacity
(Time)
(Internal 26MB Memory)

| | |
| --- | --- |
| Motion | 39 seconds (320 x 240), 2 minutes 27 seconds (160 x 120) *5 |
| Sound | 57 minutes 26 seconds *6 |

Storage Data Capacity
(File Sizes)

Still

Approx. 15.2MB (3264 x 2448 Non-compression), Approx. 2.83MB (3264 x 2448
Fine), Approx. 1.63MB (3264 x 2448 Normal),
Approx. 1.04MB (2592 x 1944 Normal), Approx. 672KB (2048 x 1536 Normal),
Approx. 356KB (1280 x 960 Normal), Approx. 83KB (640 x 480 Normal)

Recording Mode

| | |
| --- | --- |
| Still | (Continuous,S-Continuous,M-Continuous), Aperture-Priority/Manual exposure, |
| Scene | (Portrait,Sports,Landscape,Night Scene,Text,High-Sensitivity),Motion,Sound |

Recording Format

| | |
| --- | --- |
| Still | JPEG (Exif ver. 2.21) DCF *7 compliant, TIFF (non-compression YUV) |
| Text | TIFF (MMR system ITU-T.6) |
| Motion | AVI (Open DML Motion JPEG format compliant) |
| Sound | WAV (Exif ver. 2.21 µ law) |

View Finder *8

Real-image optical zoom finder

LCD Monitor

1.8 inch low temperature polysilicon TFT LCD (approx. 130,000 pixels)

Self Timer

Delay: 10sec., 2sec.

Interval Timer

Shooting interval: 5 sec. - 3 hours (5 sec. steps) *9

PC Interface

USB2.0 (Hi-Speed USB), (choice of Ricoh original or mass storage driver *10 )

AV Interface

Audio Out, Video Out

Video Signal Method

NTSC/PAL

Dimensions
(W x D x H)

113.6 x 29.0 x 58.0mm (excluding projections)

Weight

Body: approx. 205g
With AA batteries (included), SD Memory Card, and hand strap (included): approx. 261g

Power Source

rechargeable battery (DB-43) x 1, AA battery (alkaline/NiMH rechargeable battery) x 2,
AC adaptor (AC-4a)
Shooting Capacity *11

Based on CIPA standard

Using DB-43: Approx.400 pictures (normal)

Using AA alkaline batteries: Approx. 80 pictures (normal) *12

Operating Temperature

0 - 40°C
*1:

In Fine/Non-compression mode, resolution is 3264 x 2448.

*2:

Distance is valid when ISO auto or ISO400 are set.

*3:

In dark places, the flash may pre-flash before the camera shoots.

*4:

Average number of still images.

*5:

Max. recording time of 88 min. 31 sec. with 1GB SD Memory Card.

*6:

Max. recording time of 2,063 min. 25 sec. with 1GB SD Memory Card.

*7:

DCF is the abbreviation of JEITA Standard "Design rule for Camera Files system". (It does not guarantee perfect inter-camera compatibility.)

*8:

When shooting at wide-angles, the vignette can be seen at the bottom left-hand corner of the view finder – this has no affect on captured images.

*9:

With flash OFF.

*10:

Mass storage driver is compatible with Windows Me/2000/XP and Mac OS 9/OS X 10.2-10.3.8. It is not compatible with Windows 98/98SE or Mac OS 8.6. Images can only be downloaded from the camera.

*11:

Battery performance measured using CIPA standard parameters. Actual performance may vary according to usage conditions.

*12:

With AA alkaline batteries (Included).