ESPIO 24EW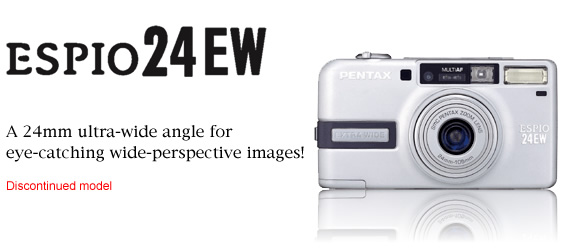 Compact, Portable Design with 24mm Ultra-Wide-Angle Coverage
The ESPIO24EW's high-performance zoom lens with an approximately 4.4X zoom range extends wide-angle coverage to an astonishing 24mm, letting you enjoy such creative benefits as extra-wide perspective, a greater sense of depth and unique distortion — especially around the edges of the image field. At the 105mm telephoto end, you can also enjoy dynamic, high-magnification images with fine details.
Exposure Compensation for Fine-Tuning of Exposure Levels
Using the exposure compensation function, you can adjust exposure levels within a range of ±1EV at 1/3EV steps to create the desired visual effects with great ease, allowing you to add a touch of creativity to fully automated exposure control.
Portrait Mode to Standardize the Subject's Size
The ESPIO24EW's unique portrait mode automatically standardizes the subject's size within the image field by monitoring its distance and positioning the lens to produce beautifully proportioned portraits.
Well-Defined Close-Up Images with Soft Flash Convenience
The ESPIO24EW's zoom macro feature lets you capture fine-detailed close-up images without any adjustment — from a distance of 0.3m at the 24mm ultra-wide-angle end, or 0.5m at the 105mm telephoto end. It also offers the convenience of the soft flash function, which automatically controls the discharge level at close ranges to prevent overexposed, washed-out images.