APS Camera: efina T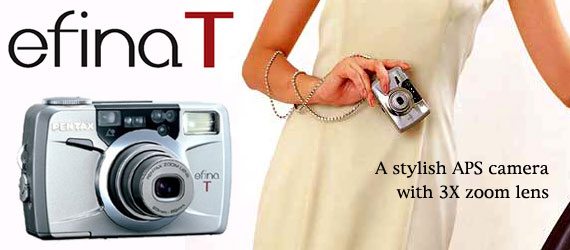 Eye-Catching Metallic Body with a 23mm-69mm 3X Zoom Lens
Since the ultra-compact, multi-featured efinaT is encased in a beautifully designed silver body, you can take it with you anywhere — just like a fashionable accessory. Its high-performance 23mm-69mm 3X zoom lens* gives you outstanding flexibility in image framing.
* Equivalent in focal length to approximately 29mm-87mm in the 35mm format.

An Array of Advanced Features in an Elegantly Styled Body

Built-in auto flash for beautiful pictures day and night
The built-in flash automatically discharges whenever the efinaT detects low-light and backlight conditions. You can also use the flash-on mode to apply illumination to a subject in the shade.

Red-eye reduction to avoid annoying flash effect
The built-in auto flash's red-eye reduction function prevents annoying red eyes in the subject's eyes, creating natural, beautiful flash portraits.**
** This function does not eliminate "red eyes" in all instances.

Multi-pattern metering to solve misleading lighting conditions
The efinaT's sophisticated multi-pattern metering system detects even subtle differences in brightness and contrast levels within the image field, to give your subject perfect exposure, even under complicated lighting conditions.

Quick-setting infinity-landscape for distant subjects
When you photograph architecture or scenery at a distance, simply switch to infinity-landscape mode to fix the focus at infinity. This lets you capture beautiful pictures without delay.

Passive 5-point AF for picture-framing flexibility; Spot AF for pinpoint focusing
Reliable 5-point AF covers a wide area of the image field to give you picture-framing flexibility — even when the subject is positioned off center. You can also take advantage of spot AF to pinpoint the focus on a single, small element of your subject.

Slow shutter and slow-shutter sync for sunset scenes
Select the slow shutter mode to stop flash discharge at museums and galleries, or to dramatize sunset scenes. To take portraits against a beautiful sunset, use the slow-shutter sync mode to give ideal exposure to both subject and background.

Zoom macro to capture detailed close-up images
The efinaT lets you take eye-catching close-up images from only 65 centimeters away, at any focal length of the zoom lens.
A choice of three picture formats for ideal proportions
Take your choice of any of three distinctive picture formats — C (2:3), H (9:16) and P (1:3) — for the best image composition. You can easily and instantly switch from one format to another; the efinaT automatically adjusts the viewfinder picture frame for the selected format.
Self-timer to join the party; Remote control for unattended shutter release

The built-in self-timer gives you approximately 10 seconds to join family or friends in the picture after pressing the shutter release button. Using an optional remote controller, you can release the shutter at will from as far as four meters away.
Ultra-compact zoom lens with aspherical elements for high-quality image reproduction
Thanks to the two aspherical lens elements incorporated in the six-element, five-group zoom optics, the efinaT's zoom lens is designed to be extremely compact and lightweight, while delivering exceptional image quality.
Actual-image viewfinder with diopter adjuster; Simple lever operation to adjust image size

The actual-image viewfinder automatically changes the size of the image field for the selected focal length, while the built-in diopter adjuster lets you fine-tune the viewfinder image to your eyesight. The large, accessible zoom lever lets you adjust subject size with ease.
Five Distinctive Shooting Modes with Easy Mode Setting via Pictographs
| | |
| --- | --- |
| | [AUTO] Select the multi-purpose "AUTO" mode in most situations. |
| | [AUTO+EYE] Select this pictograph for red-eye reduction flash. |
| | [FLASH-OFF] Select this pictograph to turn the flash off or capture sunsets. |
| | [FLASH-ON] Select this pictograph for flash use on every picture. |
| | [SLOW SYNC] Select this pictograph for flash portraits at sunset. |
Functional Features to Optimize User Benefits
Mid-Roll Film Change (MRC) for multi-film shooting convenience
Thanks to the MRC feature, you can exchange APS film cartridges at any frame of the film. When you reload a partially used cartridge, the efinaT automatically advances the film to the next blank frame. This lets you use a number of film cartridges simultaneously, while assigning a specific subject to each cartridge.
Single-action film loading to minimize delays
Just drop the APS film cartridge into the efinaT, and in just seconds you're ready to shoot. When you take a film cartridge out of the camera, its user-friendly marker lets you identify at a glance whether all frames are already exposed or some blank frames are still left on the film.
Safety lock on film cartridge compartment
A safety lock mechanism is used in the film cartridge compartment to prevent accidental opening of the lid.
Print Quality Improvement (PQI) to upgrade image quality
To optimize the image quality of finished prints, the efinaT automatically records vital shooting data, including the use of flash and the subject's brightness level and lighting conditions, onto the magnetic coating on the back of the film.
Date and title imprinting to make APS photography more enjoyable
The efinaT lets you keep accurate track of your memories with its five-mode date imprinting function, while its title imprinting function allows you to print one of the 31 prerecorded titles (available in 12 different languages) onto the picture to note the occasion or send a message.***
*** The selected date can be imprinted onto the image side of prints upon request at the time of your print orders.