Compact, Water-Resistant Binoculars: DCF MCII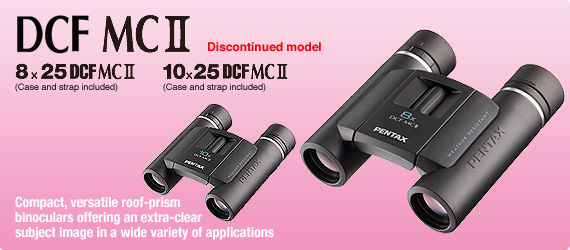 Pocketable, Slender-Bodied Design and Water-Resistant Construction Equipped for All-Purpose Viewing: Trips or Sporting Events, Indoors or Outdoors, Rain or Shine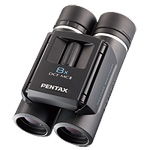 The dependable water-resistant construction meeting JIS Class 4 standards comes handy when the binoculars are subjected to the risk of being sprayed with water or rain.*
The dual-axis optical design allows the user to swivel the barrels together to reduce the overall width for easy carrying. Coupled with its extra-slim, 38mm-thin body design, the DCF MCII series is designed to comfortably fit in a jacket pocket or small purse.
The renowned multi-layer coating is applied to optical elements to assure a bright, clear view of the subject, while the phase coating is applied to enhance contrast and resolution.
* The DCF MCII series is not designed for applications subject to water pressure, such as underwater viewing or rinsing with water.
High-Quality Roof-Prism Optics to Assure Outstanding Viewing Comfort,
Superb Operability and Excellent Portability
The long eye-relief design (21mm for the 8x25, and 20mm for the 10x25) assures eyeglass wearers of an entire image field.
A pair of helicoid-type extendible eyepiece rings makes it quick and easy to set the eyepieces at the most comfortable position for fatigue-free viewing.
Phase coating (Phase difference compensation coating)
Roof-prism binoculars tend to suffer the adverse effect of polarization due to the phase difference caused by different incident angles of the incoming light reaching the two roof prisms. This often causes deterioration in contrast and resolution, and results in unwanted halation (or light spread). The phase coating is designed to assure a sharp, clear and high-contrast view of the subject by effectively compensating such phase difference.