Spotting Scopes: PF-80ED
A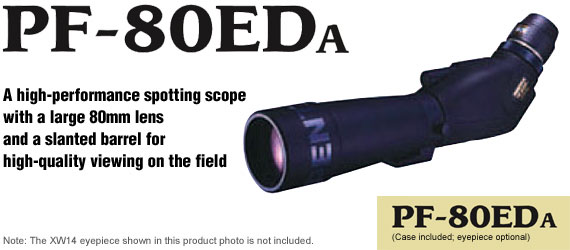 Large 80mm Objective Lens for a Bright Image Field
The PF-80EDA features a large objective lens with an 80mm effective aperture to produce a bright image field for easy subject spotting and accurate focusing.
High-Resolution ED Elements for a Sharp, Crisp Image
The objective lens incorporates ED (Extra-low Dispersion) glass elements to deliver a sharp, high-resolution image with minimal chromatic aberrations.
Slanted Barrel for Comfortable Viewing
The PF-80ED<font class="sub">A</font>&#8217;s lens barrel is slanted 45 degrees upwards toward the eyepiece to assure the most comfortable viewing position, even when the subject is at the top of a tree or on a steep hill.
Lightweight Magnesium-Alloy Body for Portability and Shock Resistance
The PF-80EDA is made of heavy-duty magnesium alloy to reduce weight and protect inner mechanisms, while its protective rubber housing further enhances shock resistance and durability.
Waterproof Construction for All-Weather Viewing
The PF-80EDA incorporates a dust-shielding glass element in its eyepiece receptacle to assure JIS Class 6 waterproof construction, so it can be used in the rain with no worries.
Nitrogen-Filled Body to Prevent Fogging
The PF-80EDA's body is filled with nitrogen gas to prevent internal fogging caused by sudden temperature changes, providing a clear vision under any condition.
A Choice of Various Eyepieces to Meet Specific Applications
PENTAX offers four wide-angle XW-series eyepieces three cost efficient XF-series eyepieces and one versatile zoom eyepiece for use with the PF-80EDA. So you can select the one that best suits your application. All eyepieces feature a long eye relief to ensure comfortable viewing for eyeglass wearers.
Other Features
• Sight line on top of the lens barrel for easy targeting of the subject
• Built-in lens hood to shield out excessive light and protect the objective lens surface
• Tripod receptacle with click-stop rotation mechanism for easy twisting of the lens barrel to position the eyepiece at the most comfortable angle without changing the direction of the lens barrel