Spotting Scopes: PF-65EDII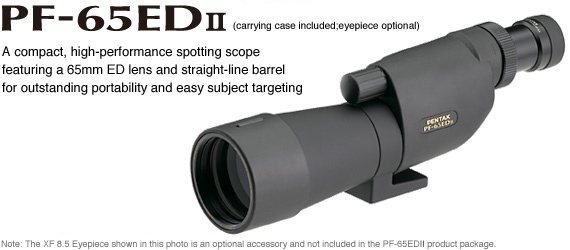 Superb Optical Performance
In order to optimize the PF-65EDII's optical performance, PENTAX made a thorough review of the optical designs utilized in its previous spotting-scope models. It then made improvements to every optical element during the scope's development, including the incorporation of high-resolution ED (Extra-low Dispersion) optical elements in the objective lens. As a result, the PF-65EDII provides a clear, bright image field in all types of observations, and assures outstanding image quality in high-magnification digital photography using a digital camera.
Compact, Portable Design with an 65mm Objective lens
The PF-65EDII features a compact, lightweight body with a 65mm objective lens to assure outstanding portability and maneuverability in the field.
Straight-Line Barrel for Easy Targeting of the Subject
The PF-65EDII's straight-line barrel lets you spot the subject swiftly and accurately, even from a moving vehicle.
High-Resolution ED Elements for a Sharp, Clear Image
The PF-65EDII's 65mm objective lens incorporates ED (Extra-low Dispersion) glass elements to deliver a sharp, high-resolution image with minimal chromatic aberrations.
smc PENTAX XF-Series Eyepieces Designed Exclusively for the 65mm Spotting Scopes
The PF-65EDII accepts any of the three smc PENTAX XF-series eyepieces: two unifocal models with a long eye relief, and one zoom model (all optional). By removing the screw-on-type eyecup, you can mount an eyepiece on either of the PF-65EDII's two eyepiece receptacles (one for the unifocal models with 30.5mm in diameter and 0.5mm in thread pitch, and another for the zoom model with 43mm in diameter and 0.75mm in thread pitch). In addition to XF-series eyepieces, the PF-65EDII also accepts any of the five high-performance XW-series eyepieces (four unifocal models and one zoom model) designed for astronomical observation, assuring greater flexibility in the choice of an eyepiece that best accommodates specific user requirements.
Other User-Friendly Features
•Durable, shock-proof rubber housing
•JIS Class 6 waterproof construction* with dust-shielding glass element in the eyepiece receptacle for all-weather viewing
•Nitrogen-filled body to prevent fogging caused by sudden temperature changes
•Easy-to-access focus ring positioned at the top of the lens barrel to facilitate focusing operations through an easy reach by either hand
•Collet-type eyepiece receptacle for smooth installation and removal of eyepieces
•Extendible lens hood to shield the observer's eye from excessive light and keep the objective lens surface free of dust and rain
•Sight line on the lens hood for easy targeting of the subject
•Carrying case that can be fitted to the PF-65EDII during observation
* The PF-65EDII is not designed for underwater use and should not be submerged in water.