Ultra-Compact Binoculars: FB Zoom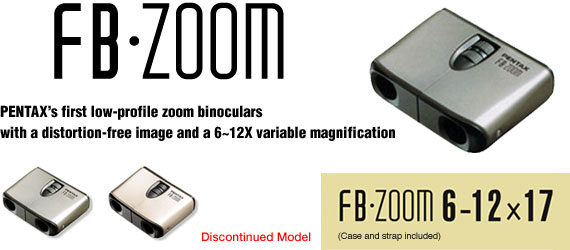 Stylish Aluminum-Alloy Housing with Multi-Purpose Design
Encased in a titanium-colored aluminum-alloy housing, the FB ZOOM 6-12x17 is designed to be simple and elegant, making it well suited not only for bird watching and spectator sports, but for trips and casual outings.
PENTAX's First Zoom Binoculars Incorporating a Low-Profile Design
The FB ZOOM 6-12x17 is the first PENTAX binoculars that incorporates versatile zoom capability into an ultra-compact, low-profile body. Its 6-12X variable magnification is ideal for viewing at theaters and sports events, while its ultra-compact body easily fits in a purse or pocket for outstanding portability.
Accessible Single-Axis Alignment of Zooming and Focusing Rings
Since the zooming and focusing rings are conveniently positioned back-to-back at the central portion of the top panel, you can control zooming and focusing effortlessly with minimum finger motion from one ring to another.
User-Friendly Single-Action Eye-Distance Adjustment Mechanism
Since the PENTAX-developed eye-distance adjustment mechanism synchronizes the slide-away movement of both lens barrels simultaneously, a single adjustment is all that is needed to set the distance between the two eyepieces.
Aspherical Optical Elements for a Sharp, Clear Image
Distortion-compensating aspherical optical elements are incorporated into the FB ZOOM 6-12x17's roof-prism optics to produce a sharp, high-contrast image.