PENTAX Efina
An entry-class digital compact camera, sporting a stylish, accessory-like design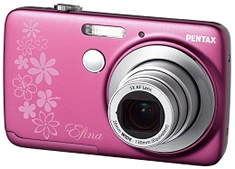 Pink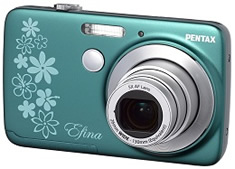 Green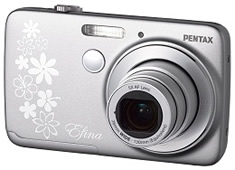 Silver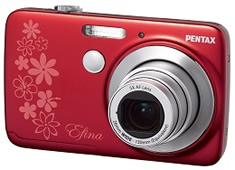 Red
PENTAX RICOH IMAGING COMPANY, LTD. is pleased to announce the launch of the PENTAX Efina digital compact camera. Within a stylish, slender body created with high-quality materials, it offers outstanding specifications to assure the simple, effortless capture of beautiful digital images.
Even though it incorporates such outstanding shooting features as an optical five-times zoom lens, high-resolution images assured by its approximately 14.0 effective megapixels and HD movie recording, the PENTAX Efina's slender, card-sized, metallic body makes it easy to carry it in a pocket or purse. It's just like carrying a favorite fashion accessory. It also features a host of convenient tools, including a self-portrait mirror placed on the front panel, to assist in the recording of not only memorable trips and keepsake snapshots, but also ordinary everyday scenes. Also featured on the front panel is a lovely, floral design appealing to young women photographers.
The Efina also offers a choice of four body colors to satisfy the user's preference. This model is expected to be launch in Asian countries except in Japan and in China.
Major Features
Compact, lightweight body for easy carrying

While incorporating such outstanding features as an optical five-times zoom lens and a 2.5-inch LCD monitor, the Efina offers a slender, card-sized body that fits comfortably in a small pocket or the spare space of a purse, making it an everyday, go-anywhere imaging tool ideal for every occasion — from trips and leisure activities to everyday events.

Stylish design

The Efina's front panel is made of high-grade aluminum, while its shutter release button and zoom lever are treated with a brilliant chrome coating to enhance its fashionable appearance. The four corner of the body are elegantly rounded to facilitate the removal and storage of the camera from/into a pocket or purse. The camera's stylish design and beautiful finish also make it easy and comfortable for young ladies to carry it to every outing, as if carrying a favorite accessory. As a graphic accent to enhance the pleasure of carrying and using the Efina, a floral design of tropical flowers is portrayed on the front panel.

High-quality images

The Efina delivers sharp, high-quality images, thanks to the combination of exceptional image resolution assured by approximately 14.0 effective megapixels and a state-of-the-art imaging engine. It also records beautiful HD-quality movie clips (at 1280 x 720 pixels).

Optical 5X zoom lens with 26mm wide-angle coverage

The Efina comes equipped with an optical five-times zoom lens with a focal-length coverage from approximately 26mm wide angle to 130mm telephoto (in the 35mm format). Since its 26mm wide-angle setting offers a wider angle-of-view than ordinary zoom lenses, this zoom lens is useful in a greater variety of applications — especially with such subjects as breathtaking scenery, magnificent architecture and family or group shots in confined spaces. The Efina also provides the five-times Intelligent Zoom function to extend the zoom coverage up to approximately 25 times without compromising image quality.

High-sensitivity shake-reduction mode to assure sharp, blur-free images

The Efina's high-sensitivity SR (Shake Reduction) mode automatically adjusts sensitivity up to ISO 1600 in relation to the subject's illumination level. This mode comes in especially handy in dimly lit locations, since it allows the user to record images with faster shutter speeds to minimize the adverse effect of camera or subject shake.

16 Scene modes for easy capture of particular subjects

The Efina offers 16 different Scene modes to automatically optimize all shooting settings for a particular scene or subject. With a simple selection of the pictograph corresponding to the desired Scene mode, this convenient feature allows the user to take beautiful images with minimal effort.

Automatic face detection for beautiful portraits

No matter where the photographer places the subject's face in the image field, the Efina's Face Detection AF & AE function instantly and accurately detects the face and optimizes focus and exposure settings. Because of this, the subject's face is always captured in sharp focus and perfect exposure, even when the subject stands in the backlight.

Other features

Large, easy-to-view 2.5-inch LCD monitor with approximately 230,000 dots
In body recharge system for simple, cellphone-like battery
Approximately 32MB built-in memory
Exclusive camera pouch included
Compatibility with Eye-Fi wireless LAN SD memory cards
Image viewing, editing and filing software included
PENTAX Efina Specifications
Lens
5 groups / 6 elements (3 aspherical elements)
Focal Length
4.7 - 23.3mm
35mm equivalent focal length
approx. 26 mm – 130 mm
Aperture
F3.5(W)-6.3(T)
Zoom
Optical Zoom
5X
Digital Zoom
approx. 5X
Intelligent Zoom
-
Motion Blur
Reduction
Still
High-sensitivity anti-shake mode
Movie
Movie shake reduction mode
Focus
Type
Face Priority, Multi-Zone, Center
Focus Range
(From lens face)
Standard
0.5 [m] – Infinity (at wide setting)
0.9 [m] – Infinity (at tele setting)
Macro
0.2– 0.8 [m] (at wide setting)
0.8– 1.3 [m] (at tele setting)
Face detection
Face Detection AF&AE is available for all modes up to 5 faces.
Pet detection
-
Number of
Effective pixels
approx. 14 megapixels
Image Sensor
1/2.3" CCD
Number of
Recorded pixels
Still
14 MP (4:3),12 MP (3x2), 10 MP (16x9), 6 MP (4:3), 3 MP (4:3)
Movie
1280, 640
Sensitivity
(Standard Output Sensitivity)
Auto, Manual (ISO 80 - 1600)
White Balance
Auto, Daylight, Tungsten, Fluorescent, Open shade
Viewfinder
-
Display
2.5" LCD, approx. 230K dots
Exposure Control
Metering System
Multi-segment; center-weighted; center spot
Exposure Compensation
±2EV(1/3EV steps)
Scene modes
Portrait, Sport, Landscape, Close Up, Sunset, Backlight, Candle Light, Children, Bright, Fireworks, Self Portrait, Night Portrait, High ISO, Panorama Left-Right, Panorama Right-Left, Blur Reduction
Playback modes
Select Photo, Select All, Keyword Tag, Favorite, Protect, Slide Show, Properties, Crop, Magnify, Edit Tag, Multi-Select, View Thumbnails / Multi-up, View-by-All, View-by-Dates, View-by-Favorites, View-by-Keywords, Make a Picture from Video, Video Trim, Action Print, Play Video, Delete, Undo Delete, Eye-Fi Support
Shutter Speed
1/8 – 1/1400 sec
Built-in flash
Modes
Auto, Flash ON, Flash Off, Red Eye Preflash
Flash Range
Wide:approx. 0.3 - 4.1m (ISO Auto)
Tele:approx. 0.8 - 2.3m (ISO Auto)
Drive Modes
Single shot, Burst(3 shots), Self timer (10s), Delay shutter (2s), 2-shots self-timer
Storage Media
Built-in Memory (approx. 32 MB), SD/SDHC Memory Card
Power Source
Rechargeable lithium-ion battery D-LI108
Battery life
Still* : Approx. 200 shots (Rechargeable Lithium-ion battery)
Playback** : Approx. 250 min. (Rechargeable Lithium-ion battery)
Interfaces
USB2.0(Hi-Speed): PC/AV terminal
Video Output
NTSC/PAL
Water proof / Dustproof
-
Dimensions
approx. 87.0 (W) × 54.0 (H) × 20.5 (D)mm
approx. 3.4(W) × 2.1(H) × 0.8 (D) inches
Weight
With battery & SD card
approx. 108 g (loaded and ready)
approx. 3.8 oz.
Body
approx. 91 g (without battery and SD memory card)
approx. 3.2 oz.
* Recording capacity shows approximate number of shots recorded during CIPA-compliant testing. conditions.
Actual performance may vary depending on operating.
** According to the result of PENTAX RICOH IMAGING in-house testing.
♦ This product supports PRINT Image Matching III. PRINT Image Matching enabled digital still cameras, printers and software help photographers to produce images more faithful to their intentions. Some functions are not available on printers that are not PRINT Image Matching III compliant.
Copyright 2001 Seiko Epson Corporation. All Rights Reserved.
Print Image Matching is a trademark of Seiko Epson Corporation.
The PRINT Image Matching logo is a trademark of Seiko Epson Corporation.
♦ All other brands or product names are trademarks or registered trademarks of their respective companies.
♦ Design and Specifications are subject to change without notice.