Ichiro Fujisato
Profile

Born in 1969, Ichiro Fujisato is a leading photographer known for his trendy, powerful photographic style and colorful images. After graduating from the photographic technology department at Tokyo Polytechnic University's Junior College, he studied under noted photographer Shunji Okura. He has been a freelance photographer since 1996. In addition to working as the official photographer for pop and R&B singer May J. on her concert tours, he also captured the cover photos for Shinigami (The God of Death), a series of books written by popular author Kotaro Isaka. In 2018, he captured front-cover images for the 40th-anniversary issues of Monthly Cameraman magazine. From 2017 to 2018, he even performed as a radio personality. He published the book titled Portrait no Susume (Advice on Portraiture) published by Nihon Shashin Kikaku. In collaboration with actress Eri Kamataki and art director Kan Mimura, he has also been involved in a photo exhibition project over the past decade. He organizes 10 exhibitions annually, which are known for attracting many repeat visitors. In 2019, he started a new series, "Women," as a personal challenge to capture new subject types.

Fujisato Ichiro official website
(http://fujisatoichiro.wixsite.com/official)

HD PENTAX-FA 43mmF1.9 Limited
×
HD PENTAX-FA 77mmF1.8 Limited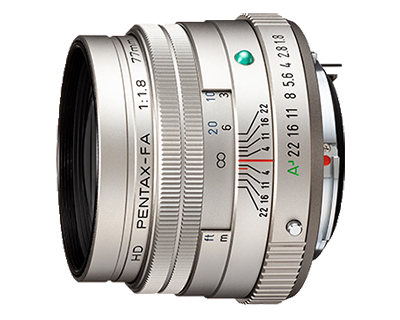 These lenses give their owners a unique sense of exclusiveness, one that is difficult to describe. The lineup of unconventional, unfamiliar focal lengths clearly demonstrates PENTAX's originality. Delivering distinctive, brilliant visual expressions, each of these lenses is a masterpiece in itself.
I'd like to comment on two of them, the 43mm and 77mm lenses. First, take a close look at the exterior design of these FA Limited-series lenses. The easy-to-operate focus ring encircles the perfectly crafted lens barrel. This makes me wonder if any other lens marketed today can provide the same pleasure in simply turning the helicoid mechanism. I turn the focus ring to pinpoint the focus on the subject, then shift the focus to another element. I get excited just by performing such a simple task. That's why I treasure these lenses.
The mount pointer with a shippoyaki (cloisonné) finish is a stylish feature. This bluish green pointer serves as a decorative element to further enhance the exclusiveness of these lenses.
Let's look at the 43mm lens first. Because it provides a focal length close to that of my regular-use standard lens, I feel very comfortable using it. It captures an image slightly broader than the one I visualize using my sense of a standard focal length based on years of experience, so it provides me with greater flexibility in image composition. It's often the case that, when taking a picture in a tightly confined room, I have to back up to the wall behind me to create sufficient space. This lens's broader perspective comes in handy in such a situation, however, so I can proceed with the shooting more comfortably and without hesitation. I'm also amazed by its delicate image rendition and subdued bokeh (defocus) effect in the background. It unfailingly depicts the subtle nuances of a subject positioned against backlight on a sunny day. Its minimum focusing distance of 45 centimeters is another attractive feature. I can easily close in on the subject until I find the perfect distance for the desired image composition.
Let's move on to the 77mm lens. Although almost everyone agrees that this focal length is ideal for portraiture, that's not really the case for me. I prefer to capture close-up images, so this lens's minimum focusing distance of 70 centimeters is slightly too long for me to physically approach the subject at the distance I want. In other words, it makes the shooting less exciting than I want it to be. However, this lens produces excellent rendition of out-of-focus areas. When I close in on the subject, I can create a distinctively fuzzy rendition. It produces a beautiful bokeh (defocus) effect, even in the foreground, which appears to almost dissolve into an abstract image. I feel that this distinctive visual effect serves as a bond between the photographer and the viewer. I also believe that this lens delivers enormous imaging power — an important factor in attracting the viewer's attention, and an essential element of great photography.
A delicate but somewhat unrefined expression is the most prominent feature of the FA Limited-series lenses. I feel dynamism, and the utmost exclusiveness, in this typical PENTAX expression. I hope that you will feel the same way, and experience this exclusiveness for yourself.