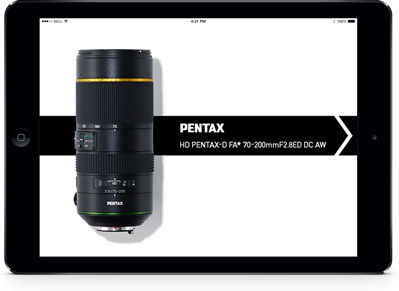 An application that conveniently communicates the appeal of new products
News
2016.03.31

Download of this application is over. The stories can be seen on the website.
Main functions
"PENTAX STORY" is a free application for tablet devices that delivers a variety of content not presented on the website or in catalogs. This content includes photographer assignment shots and equipment usage impressions, Engineers interviews, sample photographs, and more.
Utilizing the possibilities inherent in digital content, animation functions are used so you can see products from all sides with a 360-degree revolving view and also operate simulations showing how the field of view changes depending on the focal length, thereby deepening your understanding of each product.
Function explanations
Engineers interviews
Assignment shots
Usage impressions
Specifications
【iOS application】
・Models and versions supported: iPad 3rd generation and later
*iOS 7 and later *
・Download method: Download from App Store (free)
Download of this application is over.
【Android application】
・Support OS: Android OS Ver.4.3 or later *
・Recommanded hardware: NEXUS 7


Download of this application is over.
Note: There is no guarantee that the application will operate with all OS or on all devices.
Note: The company and product names shown are the registered trademarks or trademarks of their respective companies.