Downloads : Firmware Update
Thank you for using RICOH G900 digital camera.
RICOH IMAGING COMPANY, LTD. wishes to announce the release of Firmware Update Software Version 1.01 for RICOH G900. Firmware in this document is the software that runs inside digital cameras.
Changes to V1.01
Improved the battery life of using "Interval Shooting" and "Interval Movie" uses with revised sequences.
Added choices newly to the following items in the "Shooting menu" of "CALS mode".
- Pix. Track SR: ON
- ISO Setting: 12800, 25600
Corrected EX2 to be able to output the serial number information of G900 (EX2 Version 1.0.1.8 is required.)
Improved stability for general performance.
Caution
*Only RICOH G900 users are permitted to download the firmware update
Firmware Update Software for RICOH G900
| | |
| --- | --- |
| Name | Firmware Update Software for RICOH G900 |
| Registered name | g900_v101.zip (zip type file 18,284 Kbytes) |
| Applied product | RICOH G900 |
| Updated firmware file | Zip type (For Windows/Mac) |
| Release date | 2019/10/31 |
| Copy right | RICOH IMAGING COMPANY, LTD. |
How to check the firmware version
[1] Turn ON the camera.
[2] Press MENU button.
[3] Operate 4-way button and display 4/5 page of the [Setup menus]
[4] Operate 4-way button and select [Version Info] then press 4-way button right.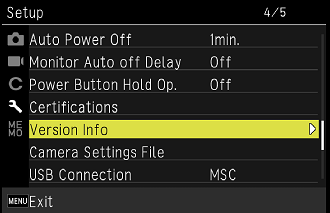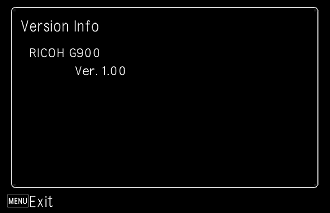 [5] The firmware version for camera is displayed on the [Version Info] screen.
Preparation of update
RICOH G900 camera body.
A blank SD memory card which is formatted by RICOH G900 (32MB or more)
Computer with a SD card slot.
<Windows>
Windows® 10 (32bit/64bit) / Windows® 8.1(32bit/64bit) / Windows® 8(32bit/64bit) / Windows® 7(32bit/64bit)
<Mac>
macOS v10.14 Mojave / macOS v10.13 High Sierra / macOS v10.12 Sierra / macOS v10.11 El Capitan / OS v10.10 Yosemite
*If the computer does not have a SD card slot, SD card reader / writer is required.
Fully charged battery (DB-110) or AC adapter kit K-AC166.
*Be sure to use fully charged battery. If the camera turns off during updating due to lack of battery power, the camera will become inoperable. If this happens, a charge will be made for repairs even if within the warranty period.
Download the updated firmware file
For Windows/Mac: g900_v101.zip 18,284 Kbytes, zip type


Updating Procedure
[1] Provide a formatted SD memory card for the update software.
The download file is compressed file, so that it needs to be extracted. The following file is extracted file.
FWDC349P.BIN: This is the updated firmware

Copy the above Firmware file [FWDC349P.BIN] to the root directory of the SD card.
[2] Insert the battery into the camera and confirm the battery is full by battery level indicator then turn the camera off.
[3] Insert the update SD card (prepared in step 1) into the camera and close card cover.
[4] Press

+

buttons at same time.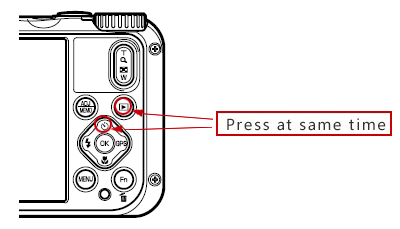 [5] [Update the camera firmware] is displayed
 Select [Execute] by 4-way button and press [OK] button.
[6] The firmware update will start and [Updating] is displayed.
 *Do not turn OFF the camera while updating.
[7] When update is completed, [Update completed] will be displayed
[8] Turn OFF the camera and remove the SD card from camera.
 *Confirm the version of firmware with above [How to check version].
Firmware Update Software for RICOH G900 Software License Agreement
The customer (hereinafter "the user") shall verify the following items below related to the use of the licensed software supplied to the user by RICOH IMAGING COMPANY, LTD. The download starts when you press "I agree. Start download." on this software license agreement.