GR DIGITAL IV : Is the macro mode available ?
Yes.
Pressing the macro button will go into the macro mode for close-ups.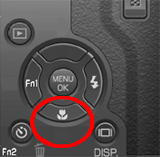 •

Available macro distance is approx. 1 cm at the minimum from the front of the lens. The area photographed will be approx. 26 mm x 19 mm.

•

In macro mode, the camera uses [Spot AF] for focus.
Answer ID: gr04435
Date created: September 16, 2011
Date modified: --
Product: GR DIGITAL IV
Operating system: --
Category: Hardware specifications
Useful LINKs:
Do you need other information? Please click any link you want from the following.