GR DIGITAL IV : What setting options are available for Eye-Fi card usage ?
[Eye-Fi Connection Settings], [Eye-Fi Connetion Display] is located in the Setup menu as follows.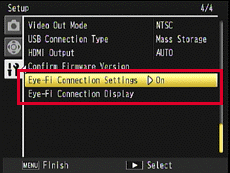 *

Options for [Eye-Fi Connection Settings], [Eye-Fi Connection Display] are available only when a SD card from Eye-Fi is in the camera.

*

Eye-Fi Connection Settings On/Off switches the wireless LAN feature On and Off. The [On] option turns the wireless feature On.


*

When [Eye-Fi Connection Settings] option is [Off], the wireless LAN feature becomes unavailable and the card will work as a normal SD card without wireless LAN feature.
In order to use the wireless-LAN feature of the SD cards, some setting for the card will be required. Follow the instructions of the SD card manual for the details.
Answer ID: gr04411
Date created: November 14, 2011
Date modified: --
Product: GR DIGITAL IV
Operating system: --
Category: Hardware specifications, Hardware operations
Useful LINKs:
Do you need other information? Please click any link you want from the following.