GR DIGITAL IV : About movie shooting.
You can shoot movies with sound. Each movie you shoot is recorded as an AVI file.
To shoot movies, you must first select the [Movie] in the Scene mode. The procedures are shown below.
Movie mode operations
1

Turn the mode dial to [SCENE].


2

Press the [MENU/OK] button.



The Scene mode selection screen appears.

3

Press or to select the Movie mode, and press the [MENU/OK] button.


4

The Movie mode symbol and the selected frame rate (frames per second) *1 are displayed at the top of the picture display.


5

Press the shutter release button to start recording the movie. When the shutter release button is pressed, the camera focuses on the subject.
Press the shutter release button again to stop shooting the movie.
Cautions
•

While shooting movies, operating sounds may be recorded.

•

The maximum recording time per shooting depends on the memory card. Depending on the type of memory card, shooting may end before the maximum recording time is reached.

•

The maximum recording time per shooting is 29 minutes or the equivalent of 4 GB.

•

The flash cannot be used.

•

The camera will focus at the point when the shutter release button is pressed.

•

The amount of time remaining is calculated based on the amount of memory available, and may not diminish at an even rate.

•

Shooting menu options differ from those available in other modes.

•

It is recommended to use sufficiently charged batteries or an optional AC adapter.

•

Use of a high speed SD memory card with sufficient memory is recommended when shooting for long periods.

•

AE/AF target selection is not available for movies.
Available Shooting menu for movies
Shooting menu in the movie mode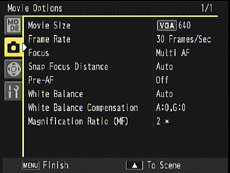 | Shoooting menu items | Options |
| --- | --- |
| Movie Size | [VGA] 640, [QVGA] 320 |
| Frame Rate *1 | 30 Frames/Sec, 15 Frames/Sec |
| Focus | Multi AF, Spot AF, MF, Snap, ∞ (infinity) |
| Snap Focus Distance | Auto, 1m, 1.5m, 2.5m, 5m, ∞ (infinity) |
| Pre-AF | Off, On |
| White Balance | AUTO, Outdoors, Cloudy, Incandescent 1, Incandescent 2, Fluorescent, M (Manual), CT(Detail) |
| White Balance Compensation | You can set the white balance compensation by moving the position of the point in the white balance compensation map towards the G (green), A (amber), M (magenta) or B (blue) color tones. |
| Magnification Ratio (MF) | 2x, 4x |

*1 Frame rate of movies
A movie consists of many frames containing still images. When displayed at high speed, these frames create moving images. The frame rate indicates the number of frames shot in one second. The higher a movie's frame rate, the smoother it will look.
Answer ID: gr04018
Date created: November 14, 2011
Date modified: --
Product: GR DIGITAL IV
Operating system: --
Category: Hardware Operations
Useful LINKs:
Do you need other helps? Please click any link you want from the following.