WG Accessories

WG Helmet Strap Mount
O-CM1536
Accessory to fix a camera on a bicycle helmet.
Features
You are able to shoot by fixing a camera like a headlight with the strap.
Applicable Models
WG-60

WG-M2

WG-M1

WG-4

WG-3

WG-2

WG-1

WG-50

WG-30

WG-20

WG-10
Specifications
●Outer Dimension: Approx. 95 mm (Width) x Approx. 54 mm (Height) x Approx. 45.5 mm (Thickness) ●Weight: Approx. 53g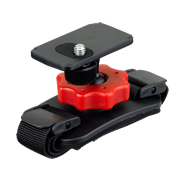 Installation Method
1 Attach the provided camera platform.

2 Mount WG-M1/M2 or WG Holder on which the camera is set.

3 Pass the strap band through the ventilation hole to mount a camera on the helmet.
When WG series camera, excluding WG-M1/M2 is used:
Since WG series cameras, excluding WG-M1/M2 cannot be fixed, always mount a camera to the separately sold "WG Holder O-CH1470"before attaching the camera.