Digital Compact Camera: Optio W30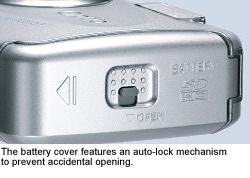 Thanks to its dependable waterproof construction,* the Optio W30 lets you record beautiful underwater still images and movie clips, up to a maximum of two hours and to a depth of three meters, without requiring a waterproof housing. Coupled with its reliable dustproof design,* you can take it almost anywhere — from beaches, rivers and oceans to snow fields, gardens and kitchens — without worrying about dirt, dust, sand, water or moisture. Its go-anywhere design makes it a perfect partner for active photographers.
* Equivalent to JIS Class 8 waterproof and JIS Class 5 dustproof capabilities.


The Optio W30's Digital SR (Shake Reduction) mode automatically increases the sensitivity up to ISO 3200, allowing you to use higher shutter speeds in dark locations and in nighttime shooting to minimize camera shake and avoid blurred images. This mode is especially useful when you want to retain the prevailing atmosphere of sunset scenes and indoor portraits by intentionally turning the flash off.

For high-quality movie recording, the Optio W30 incorporates a Movie SR (Shake Reduction) mode** to automatically detect camera shake and digitally correct its adverse effects. It also offers an interval movie recording mode to record a series of movie clips at a fixed interval.
** When this mode is selected, the field of view is narrower than normal.

The Optio W30's large, high-precision LCD monitor features a glare-free AR-coated panel and an LCD booster function, which brightens the screen, to faciliate image viewing under the water, on the snow field or under harsh sunshine.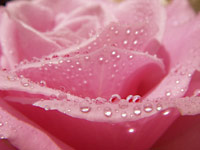 Macro Mode
to Capture Eye-Catching Close-Up Images from 1cm Away
The Optio W30's macro mode lets you approach the subject to as close as one centimeter, making it possible to capture eye-catching, fine-detailed images of tiny subjects such as flower petals and insects.
Face-Recognition AF & AE
for Sharply Focused, Beautifully Exposed Subjects
The Optio W30 features the PENTAX-developed Face-Recognition AF & AE function, which automatically detects the position and lighting condition of the subject's face to assure sharp focus and proper exposure. This advanced function is activated when you select one of the three shooting modes programmed specifically for portraiture: Portrait, Self-portrait and Natural skin tone.
Auto-Tracking AF
for Constant Focus on an Active Subject
The Optio W30's auto-tracking AF function maintains constant focus on a moving subject, such as a child at play or unpredictable pet, letting you capture split-second shutter chances with great ease and accuracy.
On-Screen Mode Palettes
for Speedy Selection of Shooting and Playback Modes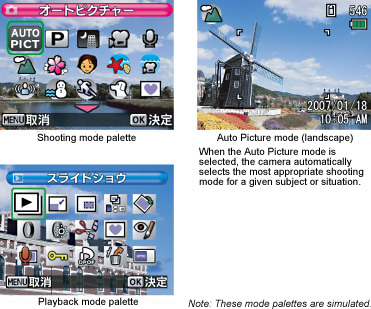 Shooting Mode Palette
The Optio W30's shooting mode palette offers an array of user-friendly, scene-specific shooting modes. Just select the icon corresponding to the desired shooting mode on this palette, and the Optio W30 takes care of the rest by optimizing all settings for that particular subject or scene.
Playback Mode Palette
Since the Optio W30's playback mode palette offers a set of icons corresponding to image-editing and photo-retouching functions available after shooting, including trimming and resizing tools and digital filters, you can easily and swiftly select the desired function.
VGA-Format Movie Recording
for Video-Camera-Quality Movie Clips
The Optio W30 employs the advanced VGA recording format to produce high-quality, blur-free movie clips at 30 frames per second and sizes up to 640 x 480 pixels.
Digital Filters
for Artistic Visual Expressions
Equipped with a variety of digital filters, including black & white, sepia, color, soft and fish-eye, the Optio W30 lets you add artistic touches and eye-catching effects to your images both during and after shooting.
A Choice of Photo Frames
to Match the Occasion
The Optio W30 lets you create an eye-catching framed image with great ease, either by displaying your choice of frame on the LCD screen during shooting or by adding the most fitting frame to a recorded image. You can also replace these frames by downloading new ones from the PENTAX Web site.

↑ Click this banner to download new photo frames.
World-Time and Calendar Functions
for On-the-Road Convenience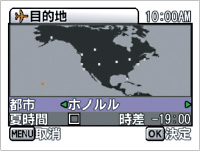 World-Time Clock to Display Standard Time in 28 Time Zones
The Optio W30's built-in clock is a handy tool on your overseas trips, as it provides real-time display of standard time in 75 cities in 28 time zones around the world. It also lets you check the time difference between your hometown and travel destination on the menu screen. It even offers an alarm function to keep you on schedule.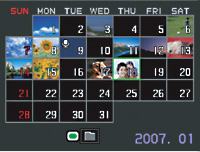 Calendar Function for Day-by-Day Display of Captured Images
Since the Optio W30's calendar function automatically files captured images into day-by-day folders, you can instantly recall the images recorded on a particular day by selecting that day on the calendar screen. This feature allows you to keep accurate track of a trip or past events.
---
For Printing
PictBridge Compatibility for Direct Printing Convenience

When connected to a PictBridge-compatible printer via the included USB cable, the Optio W30 offers convenient direct printing, eliminating the need to transfer image data to your PC. This direct-printing convenience is available with any PictBridge-compatible printer, regardless of make or model.

Compatibility with Exif Print, PRINT Image Matching and DPOF
The Optio W30 is compatible with Exif Print and PRINT Image Matching III to produce beautiful printouts faithful to the camera data. It is also compatible with DPOF (Digital Print Order Format) to control the number of prints and date imprint information.
For TV Monitor Viewing and Image Copying
AV Output Terminal for Easy TV Monitor Viewing

When connected to a TV monitor via the included AV cable, the Optio W30 lets you playback recorded images and movies with sound on a larger screen, for fun viewing with family and friends.
Copying Memorable Images and Movies to DVD and Videotape
When you want to make copies of recorded images or movies for friends or relatives, simply connect the Optio W30 to a DVD recorder or video deck via the included AV cable. Once you store the images on a DVD or videotape, they can be played back on a larger TV or projector screen, whenever friends or relatives want to recall special memories.
For Image Editing
Image Transfer to PC via USB Cable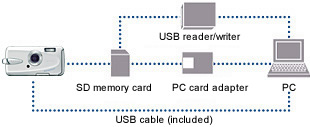 Using the included USB cable, you can easily transfer images captured by the Optio W30 to your PC, for use on a website or in a photo album. Its USB2.0 HIGH SPEED compatibility makes the transfer of large-volume image data much faster and easier.
ACDSee for PENTAX (Windows and Mac versions) for Image Viewing and Filing

The Optio W30 comes with the ACDSee for PENTAX software (available on the accompanying CD-ROM) for the viewing and filing of recorded images on a PC. The Windows version offers a host of image editing functions, including brightness and color controls and special effects, for the production of refined, original images.
ACD Showtime! for PENTAX (Windows version) for Movie Editing
By installing the ACD Showtime! for PENTAX movie editing software (available on the accompanying CD-ROM) on your PC, you can edit recorded movies at will, including deleting unwanted segments and incorporating several movie clips into a single movie.
---
Convenient All-in-One Package
• Rechargeable lithium-ion battery • Battery charger • AC plug cord • AV cable • USB cable • Strap
Software (CD-ROM)
• ACDSee for PENTAX image viewing, editing and filing software for Windows
• ACD Showtime! for PENTAX movie editing software for Windows
• ACDSee for PENTAX image viewing and filing software for Macintosh
• QuickTime 7 for Windows
USB connection requirements:
• PCs running Windows Me, 2000, XP or Vista.
• Macintosh computers running OS 9.2 or X (Ver. 10.1.2 or later).
Notes:
• The operating system must be pre-installed and updated to the latest version.
• The computer must be equipped with USB terminals
• QuickTime 6 is required for playback of movie clips on PCs running Windows Me/NT. The accompanying QuickTime 7 cannot be installed on PCs running these operating systems
---