O-CC120 Camera Pouch
A stylish, limited-edition Marc Newson-designed camera pouch
for the PENTAX K-01 digital camera.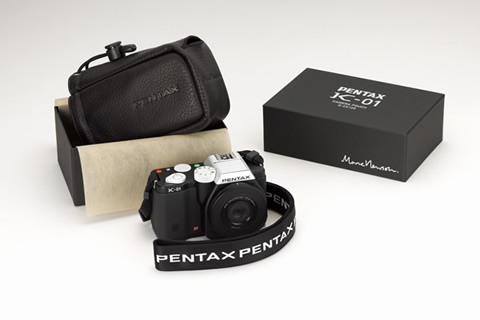 PENTAX RICOH IMAGING COMPANY, LTD. is pleased to announce the launch of the O-CC120 Camera Pouch, designed by world-renowned industrial designer Marc Newson for use with the PENTAX K-01 lens-interchangeable digital camera. This stylish camera pouch will be marketed in a limited worldwide quantity of just 300.
The O-CC120 is the first camera pouch designed by Marc Newson. It houses a PENTAX K-01 camera body equipped with the smc PENTAX-DA 40mm F2.8 XS lens, both of which were also designed by Mr. Newson. The case is made of high-quality deerskin, with meticulous attention paid to every detail, including a unique drawstring closure and Marc Newson's signature embossed on the side. The camera strap also can be threaded through the pouch — a design that not only makes it easier and quicker to take the camera out of the case, but also provides a more fashionable way to carry the camera around.